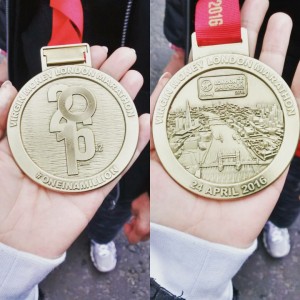 Jude Glynn Reports: So, the months of training were over, and the Harriers who had made it past all the hurdles were finally assembled on their respective start lines.
1st hurdle-actually getting a place – be it Championship or charity, main or club ballot, or-that slightly backhanded compliment-'Good for Age'!
2nd hurdle -avoiding or recovering from injury. 3rd hurdle-fitting a weekend's luggage into an unfeasibly small drawstring bag …and so , in the words of the guy on the tills in Tesco Express , we were ready to 'join in the marathon '!!
London is a mega buzz (not to be confused with the Mega Bus- an entirely different experience, as Suz and I know only too well!) Londoners completely abandon their usual reserve to cheer you on by name-well, provided you had it printed on your vest, and you feel like a minor celebrity, some kind of hero ! (only down side is missing people who actually know you!!)
Highlights-the roar of the crowd round the Cutty Sark, the total awesomeness of running over Tower Bridge, mass participation in the YMCA at some random point, legging it past Big Ben and Buckingham Palace with the end in sight! (Let's forget about the Isle of Dogs ,'that underpass' and cramp and an inability to walk once we'd crossed the finish line!)
Team Teal were:
John McKeon 2:58:25
Ollie Kirkland 3:02:32
Andy Wheeler 3:03:22
Rich Rollins 3:07:13
Dave Harte 3:15:04
Matt Pollard 3:19:53
Linda Howell 3:20:36
Steven Howard 3:33:55
Suz West 3:37:29
Monica Baptista 3:37:50
Jude Glynn 3:54:28
Clare Mullin 4:54:16
Kate Elmer 5:20:12
Alan Orr 6:32:05
Several of us were raising money for charity and a huge thank you to everyone who sponsored us. For me it really felt like we were heroes for just one day !