Another weekend and another race in Stratford, this time in the village of Ilmington, with Taz Yousaf, Rachel Partridge and Rachel's husband, Scott… A puddle, rather than the usual sea, of Teal. The race is part of a series but as none of us had been able to make the first race we'd all missed out on the chance of a series hoodie and were just in it for the pack of sausages (there was a rumour that veggie sausages would also be available but alas, the veggie option turned out to be chocolate instead).
It was a cold and wet start to the day but as they say, there's no such thing as bad weather, only the wrong clothes. Race HQ was at Ilmington Sports Club, where the 238 runners had gathered to pick up their number and chip and to keep dry and warm. The general discussion was that this version of the route was the easier of the two (the direction of the race alternates throughout the series), but we were under no illusions; we knew it was about to get hilly!
I had already decided it was going to be a steady run as it had only been a week since the half marathon and my legs felt a bit sore from Saturday's cross-country. With no prospect of a PB I just wanted to enjoy the run and felt that I'd be happy with anything under an hour on such a challenging course. Rachel, Taz and I set off at a similar pace and ran together for a bit of the way. The first km or so was uphill and then it seemed to level out a bit before we hit the big hill. Unfortunately for Taz I decided to announce the arrival of said hill with a large groan and "don't look up!", which of course prompted Taz to ignore my warning. I wish I could say I ran all the way to the top, but I didn't need much encouragement to decide to swap my run-shuffle for a walk… A couple of people ahead of me had started walking themselves and I think only one or two people passed me. Either way, I had neither the energy nor the motivation for anything more than a power-walk.
After the initial steep climb there was a further 2km or so where the course continued uphill but more gently and I got chatting to someone who had done both versions of the course before who assured me that once we hit 6km it was pretty much downhill all the way apart from a little hill at the end. I did point out that I thought he was crazy having experienced it once to come back for more – fortunately he laughed and said he thought I'd be back (the jury's still out on that; I have a serious case of "Tuesday legs").
There was a water station at the 5k point and things did get easier, although we were still climbing and we were now running through countryside, rather than the villages we had started off with. As promised the downhill section began just after the 6km marker but the initial relief of running downhill gave way to serious concentration as staying upright became the main focus. I caught a couple of people in this section but then questioned whether I was trying to run too fast downhill. The road, being mainly used by farm vehicles I expect, was a bit muddy and slippy and it was very steep. On Monday both Rachel and I had sore shins and we think the severe downhill was probably the cause. I can only imagine what it would be like to run up it (well, I could find out on 28th December when the reverse route is employed for Race 3 of the series!)
We came back in to the village and the last mile or so was a bit more undulating. There was good support from the marshals throughout and in the final section some of the early finishers also provided a bit of encouragement.
The finish line was in the field behind the sports centre and I think a couple of people had slipped in the mud of the final stretch. Scott had finished already and Rachel and Taz weren't far behind. We picked up our sausages and compared notes, agreeing that it was a really tough course but we'd all enjoyed it. We stayed to watch the presentations and there were some amazing times:
https://docs.google.com/spreadsheets/d/tMVEq5aR0ENcD5gjGOZQDpQ/htmlview With four women in the top nine, the race director declared that the ladies had "bossed it"!
Hot drinks and cake were available afterwards; we had a cuppa and then enjoyed a bit of Taz's fruit cake in the warmth of the car before heading back, feeling satisfied with a good morning's effort.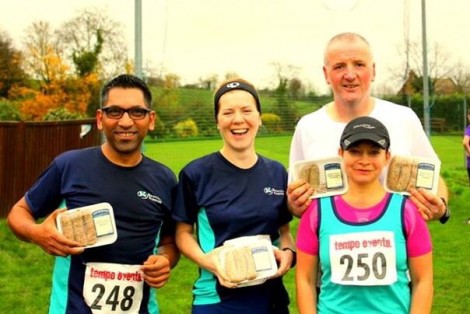 Results
Scott Partidge 51:37
Stacey Marston 58:17
Rachel Partridge 59:30
Taz Yousaf 59:46