Mel james reports on another fantastic PB and Club Record for Orlando Corea.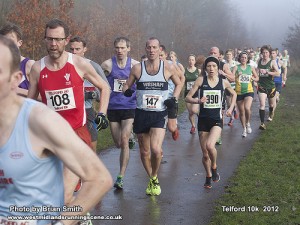 After being reliably informed that it would be a balmy 10 degrees in the Midlands, a very small group of Bournville Harriers set off for what is known as one of the best 10K races in the region. When we arrived we were greeted by dense fog and icy paths (take a look at the photos!)
After some scraping of the paths by officials, the race began. The race itself is split into 2 starts, one for the sub 40 minute runners and another mass start ¾ of an hour later. The start is tight as it begins on a narrow path and it took some of us a while to get through. (It wasn't one of those races where my Sunday morning training partner Sian and I thought we could work our way to the front as you will see from the results!)
It's a bit like the start of the 12 stage at Sutton Park but with lots more runners – over 700 runners eventually finished the race. The course then undulates through the park with only gentle inclines and long flat stages. The best thing for me about being in the race was the out and back stage where you got to see the pace of the Olympian runners Andy Baddesley and Nick McCormick just literally fly by. If you take a look at the results you'll see how far some runners come to take part.
It's a really runner- friendly event with the organisers happy for you to swap numbers right up to a few days before the start if you can't run and want to give your number away. When I was handed a pink size 14 long sleeved top for my master's prize the organiser took one look at me and said, "I've got a spare tin of sweets in the boot of my car, would you rather have them?" You can't get friendlier than that!
The Bournville results are listed below and well done to Sam, Bradlee and Antony, but of course a special mention must go to Orlando Corea for yet another PB and Club Record. He ran an absolutely stunning race – well done Orlando. The time says it all.
Orlando Corea: 32.12
Sam Chatwin: 36.16
Bradlee Todd: 37.11
Mel James: 38.13
Antony Stewart: 49.11