Isn't it great to feel part of such a fantastic club? And don't we all feel proud to wear our lovely teal vests and turn up to race with fellow BvHers? That was the feeling that lead to the creation of BvH 'Teal Targets'.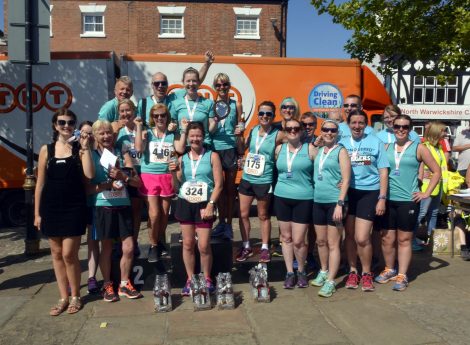 Photo courtesy of Graham Beale
Get to travel, warm up and race as a team which is fun and inspiring
Meet more people in the club
Good club turnout is a good advert for BvH
More chance of winning team prizes
Try races you wouldn't have done otherwise
Supporting other local clubs who put on races
Opportunities for pub lunches or cafes after races!
We know we can't possibly capture everybody's favourite race but we try to put together a selection of races to target which will provide something for everyone – the chance for pbs (personal bests) as well as pbs (pub beverages), road, multi-terrain, local races, a chance to try something new etc. etc.
2019/20 Teal Targets:
March – Midlands Road Relays (contact team managers, Jude Glynn and Simeon Whiting for entries)
7th April 19 – Leamington Regency 10k
26th May 19 – Great Birmingham 10k
The 2018/19 Teal Targets are:
17th March – Midlands Road Relays
5th May – John Enright parkrun
6th May – Birmingham 10k
17th June – Arden 9
8th July – Wyre Forest Half
26th August – Badgers Atherstone 10k
16th September – Worcester City half / 10k
14th October – Birmingham Half Marathon
4th November – NICE 10k
9th December – Sneyd Pudding Run 10m / 5m
January – Fladbury Festive 5
February – Stourbridge Stagger
The Teal Targets also count towards the Club Championship, which all BvH members are eligible to compete in:
The winners of the 2017/18 Teal Targets were:
National XC Champs – Matthew Pollard
Midlands Road Relays – Katie Alldrit-Rose
Great Birmingham 10k – Anna McManus
DK10k – Maria Wilkes
Wythall & Hollywood 10k – David Mountford
Wyre Forest Half Marathon – Stephen Forcer
Badgers Atherstone 10k – Steve Doswell
Waseley Wobbler – Guy Marston
Great Birmingham Run (Half) – James Drakeford
Midlands 5&7 mile XC – Simeon Whiting
Sneyd Pudding Run – Pauline Wright
Not the Roman IX – Leonie Clitherow
And in the overall points league:
3rd place: Jude Glynn
2nd place: Pauline Wright
Winner: Guy Marston
SCORING
Each runner's Top 6 events will count
All runners receive 2 points for racing in an Teal Target event.
The highest placed BvH runner (using runbritain rankings) gets 10 extra points, the second 9 points and so on.
RULES
 In order to be eligible for the BvH Club Championship:
All entrants must have been a member of BvH for the preceding twelve months.
All entrants must have a valid runbritain handicap score.
All entrants must have their parkrun barcode linked to their runbritain handicap.
All entrants must have completed 5 official runbritain races in the 12 months preceding the Teal Target event they have entered.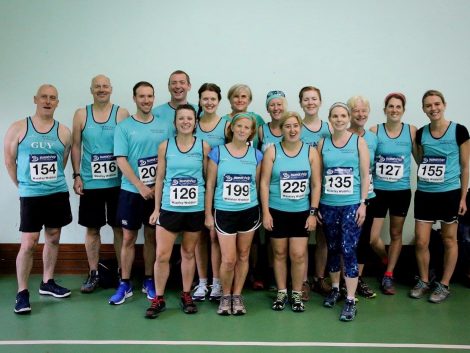 Photo courtesy of Pete Hickman