Fifteen BvHers tackled this Saturday night multi-terrain 10km race organised by Stourbridge Running Club. It had everything – steep hills, long hills, overgrown tracks (where you just followed the person in front and hoped they knew what they were doing!), nettles, brambles, mud, sand and a nice park to start and finish in. Oh and a pub for that essential post-run hydration…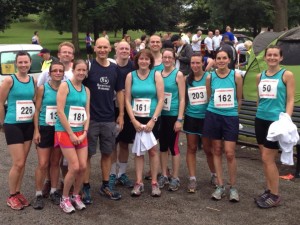 Very well organised and marshalled and supported by club and fun runners alike. A nice t-shirt and cup of water were waiting at the finish line, though somebody commented that they could have been handing out dock leaves as well!
BvH results included 3rd female for Linda Howell and 1st Lady vet 35 for Sarah Rock, well done both!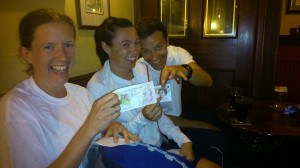 BvH Results
10 – 0:39:57 Oliver Kirkland Male Vet 40
18 – 0:42:30 Andrew Hoole Senior Men
22 – 0:43:28 Paul Gorman Senior Men
42 – 0:46:00 Linda Howell Lady vet 35
54 – 0:47:07 Laura Leslie Senior Ladies 50
60 – 0:47:44 Jon Mould Senior Men
79 – 0:49:25 Sarah Rock Lady vet 35
86 – 0:49:51 Lisa Cartwright Senior Ladies
123 – 0:52:59 Jude Glynn Lady Vet 50
133 – 0:53:27 Marianne Hensman Lady vet 35
157 – 0:57:13 Steve Doswell Male Vet 50
163 – 0:58:23 David Jenkins Male Vet 50
174 – 0:59:32 Gemma Phillips Senior Ladies
188 – 1:01:00 Emma Hopkins Lady vet 35
218 – 1:06:59 Lesley Pymm Lady Vet 60
Full results here
Next TEAL TARGET race is this Wednesday – the BRAT 5k details here