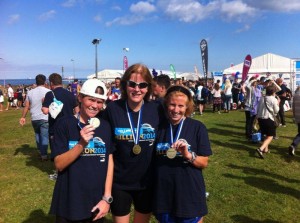 Back in July myself (suz) Emma Hopkins and Pauline Wright (not a bvh member, but a member of the wed night rep sessions I go to and parkrun,Sunday run regular) found our selves with a free place to the great north run. We had ran a 5k at cannon Hill Park on a wed night in support of cancer research the lady had places left and needed three runners.
We excepted the challenge and for this run swapped the teal for Bowel Cancer Research vests. On sat 6th we made the journey to Newcastle where to my surprise it was quite warm a good sign for race day.
Race day we had already planned our journey to the start this took about an hour of slow walking. We just followed the other 56 thousand runners so getting lost was not something to worry about. The baggage area was organised in to buses which correspond to colour pen numbers. We all decided to place our things in one bag and I would collect it after.
Off we went to the start Myself and Pauline went to the orange zone and Emma in the white. Being the biggest half in the country the pen didn't really leave a lot of room for the warm up that involved squats , bouncing ,waving arms and striking a pose! It was getting hotter and the atmosphere was building. Before long the elite women were announced Gemma Steels debut at this race she got a big cheer. After about another 15 mins the elite men were announced with Mo Farah getting the biggest cheer. Then we were off Mo followed by 56 thousand runners.
The start was quite fast probably due to where I started but the crowd started left or right of dual carriage way. I went right soon the two sides joined together making crowding a bit of a problem. I thought I should try and stay to the right the whole way. Mile two was a run across the famous bridge however I some how didn't realise I was on the bridge and around mile 9 was thinking Im going to see the bridge soon. Emma and Pauline after told me you ran on it at mile 2, how did you not notice! Good Question. I had been told different things about this race its uphill , down hill , flat etc. So I didn't know what to expect also I had been told mile 12 was all down hill!! The next few miles were uphill probably gradual with the steepest part at mile 5. At some point between mile 2 and 3 I heard the famous red arrows. I did see a bit of smoke but not the red arrows themselves. Thinking they must fly over again at parts of the race the thought I may see them kept me going. From mile 5 through to 9 I felt pretty comftorbale and had kept a pretty consistent pace. The crowds were on the same scale as London Marathon just what I had expected there were tip tops ,jelly babies , cookies and drinks being handed out the whole way by the Geordie crowds. It was getting hotter however there were showers en route which I made full use of. Although I was not to happy to get stuck in a shower with a camel who decided to take costume off in the middle of the shower stood side by side meaning I got stuck behind them! ( 2 runners front and back ) Mile 10 seemed to be taking us back up hill and runners around me had slowed down unfortunately a runner was fitting in the middle of the road he was being attended to by the red cross. This through me off track a bit I kept following the roads and the noise. There was a big screen at some point that read spotted Mo Farah wins great north run. That was good to know but I still had several miles to go. I focused on getting to mile 12 and the mile down hill I kept hearing about. My plan as I knew a pb was more than likely pretty hard to get now if I could do any thing just through myself down hill for a mile. Heading towards this stretch you turn into an amazing view of the sea it really was great image at this point. The noise was getting louder the crowds bigger. The down hill stretch was roughly 200 meters!! So my plan was completely gone I just aimed for sub 1.40 and that is the exact time I finished.
The finish area was well organised and baggage relatively easy to collect. The goody bag was a t-shirt , medal , Lucozade , sweets and other bits. The getting back to Newcastle was not easy and took around two hours just to get on a bus. Overall one to tick of the list great atmosphere bit disappointed a didn't see red arrows or realise I was running on the bridge!