Daniel Wilson reports: For those who are also interested in mountain walking as well as running here is a short report on a summer trip to the Pyrenees.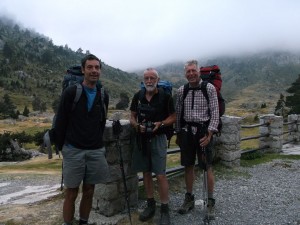 I was lucky enough in August and September to take 7 weeks holiday to walk the Haute Randonnée Pyrénéenne (HRP) which is a long distance path along the length of the Pyrenees from coast to coast.
This follows the French / Spanish border from the Atlantic to the Mediterranean through the mountains
and involves staying at a mixture of manned and unmanned refuges, as well as some camping.
The whole length of the path is about 800km and also includes lots of ascending and descending. Needing to camp meant also taking camping and cooking gear as well as food.
I walked this with various friends who did shorter portions of the walk. The whole walk took 45 days with a further couple of rest days.
The walk was a really good way to see lots of mountains in lots of varying weather, meet interesting people, particularly in the manned refuges where you share a set meal with other walkers, and see plenty of wildlife.
The training I have done with Bournville Harriers and marathon training in particular certainly helped with being fit enough and staying fit enough to do the whole trip, though the last week was getting to be a little like the end of a marathon.
Very few runners of any description were seen, though near the end we met three French chaps doing the route in about 25 days and who were jogging bits of it. I had the impression they might have previously been in the French army and were certainly fitter than me.