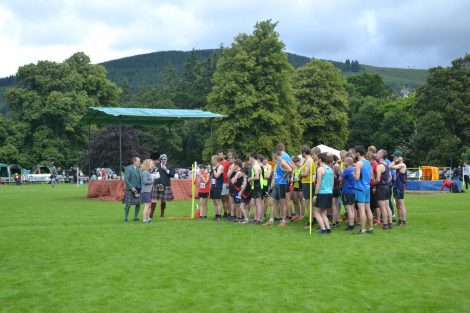 Ian Faddy Reports: The Strathpeffer Highland Gathering is one of Scotland's oldest 'Highland Games' events. It comprises a day of running, jumping, throwing, bagpiping, dancing, cycling and more bagpiping. Some events are restricted to locals, but one of the more popular events – the Hill Race – is open to anyone on the day. When Hannah and I decided to come to Scotland for our honeymoon we sought out if any Highland events were going on, and this one turned out not to be too far from us… more recently I discovered it had a hill race and I got a little more excited.
Since reading 'Feet in the Clouds' (by Richard Askwith, and hugely recommended) I thought fell and hill running would be great to try. I've never got around to joining Lesley at one of the more local events she often runs in, so this seemed like a great opportunity. I was a little unclear on the race details as we drove down to register, but it didn't really matter. A recent cold and, more crucially, a huge lack of any hill-running experience whatsoever, meant I wasn't looking to be near the front so the details didn't really matter.
Following registration and a light warm up the runners gathered at the start line and I got chatting to someone from Canada, also on holiday, and someone more local who explained it was a 4 mile race with 250m elevation and was "a bit of a lung buster going up".
Off we went.
The first half mile saw the front runners set off at a pace of about 6mm but I tucked into the middle somewhere at around 6:30mm, out of the grass arena where big fellas were launching hammers through the sky, across the road and onto some fireroad. And then we started climbing – around 15% on average over the course of 0.6 miles during which a number of people passed me, and a few of us bunched up. No-one walked. When we levelled off after 1.2 miles and started a flat undulating singletrack section through high fearns and grasses which cut across the side of the hill, I mused on a few things I'd learned from running books about running on hills:
Don't get into oxygen debt. Control your breathing.
The downhill in hill running is where you can make up real time if you have enough energy to control yourself and pick your feet up.
As a result, I wasn't too bothered by people passing me. This was hard work, but I felt ok and wanted to make sure I had something back for the downhill. And then we turned a corner and went uphill again. This time, there was no running for anyone. It was literally a scramble up a near vertical slope for about 300m. Strava tells me it was about 45% grade at times, 'easing off' to 30% for the last 50m. Easily the most ridiculous thing I've ever seen, but even here, someone passed me – it seems hill running success requires new skills that road and XC running just don't give you.
When I eventually summited the race took us across the top ridge of the hill with phenomenal 360degree views and a nice section of undulating track. It's hard to get the legs going after such intense scrambling but this was a nice stretch to settle back into a pace and I wondered if I could catch the runner ahead of me. When we started descending it took her about 1 minute before she was out of sight – absolutely fearless running and really great to (briefly!) watch. Descending appears to be a balance between keeping a high speed and keeping on your feet. I found longer strides/leaps tended to be hard to control and so I opted for short staccato-like steps and a higher cadence, which did manage to get me back a couple of places so I mustn't have been too bad at it! It's great fun, and I managed most of it with a smile and a grimace.
The top part of the descent was like a steeper XC course on a bad day, with thick mud and puddles, but my trail shoes generally managed it with a couple of slips and slides. The bottom section was through long grasses which required some bigger leaps and a little more uncertainty on where you were planting your foot and what you might be landing on.
Back on the road after the descent, wobbly legs for 400m, a lap of the grass 'arena' and a sprint to the finish. I didn't manage to catch anyone else but I didn't mind. All the runners were hanging out at the finish line to cheer people home and running in a local event made me feel a big part of the games. A couple of guilt-free beers seemed apt while we watched more races, some cycling (old-school cycle speedway for those who know it) and a great deal of bagpiping.
Some bonus photos of the games below. If you're in Scotland, get along to something like this and, if you can, get involved in any event you can. Great fun, friendly people and a fantastic spectacle.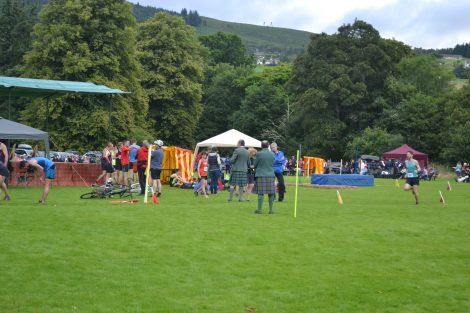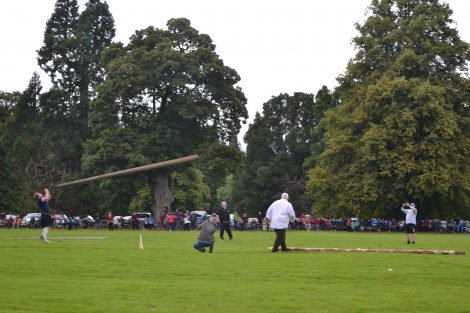 (later in the day, two beers and a pizza down, I ended up in a 4x80m relay team with the race winner and a couple of other fast runners. I was easily the slowest on the team, but we still romped home to second and an £8 prize pot. Split four ways… and they say athletics doesn't pay?!)