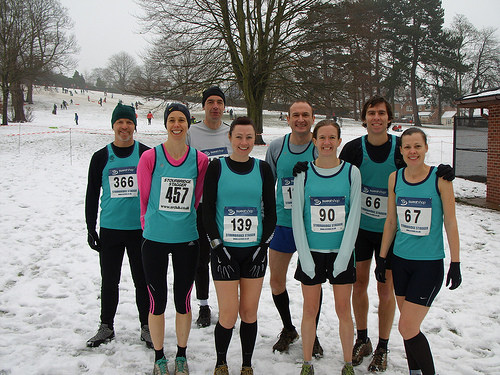 Nicola Cumley reports: When the going gets tough the tough gets going!

The Stourbridge stagger is described as a generous 10mile off road run, the route similar to the stumble race they run in the summer takes you up and over the Stourbridge countryside on bridle ways and footpaths. What could be a better way to spend a Sunday morning in February?
This weekend in order to increase the website traffic on Saturday night and Sunday morning Stourbridge running club arranged for it to snow! The message on the website (10:20, 10:25, 10:35, 10:45 on Saturday night and 07:00, 07:05, 07:10 on Sunday morning – you get the idea) was the race was really going to go ahead.
I had laid my kit out the night before and arranged lifts, so we had no choice. Twenty minutes of shovelling snow with sledges and frantic gritting we got the car out of the car park, and collected Linda. We met the other Bournville runners, Matt, Julie, Stuart, Sarah, Danny and Steve at Mary Stevens Park. More of a puddle of teal than a sea. There was an excellent turn out despite the conditions (this race had been full before the day).
Once underway it was not as bad as anticipated, in some areas the snow had cleared and it was just mud that we had to contend with. One challenging section was made up of churned up frozen mud which was a work out for the ankles, the way to get through this section apparently was to curse the horses that had churned it up (Someone near Linda) or pretend you were running through chocolate pudding (Julie).
There were a few hairy (or exhilarating) down hills in the snow, the man running with Linda told her that she had better not stop as there was no way he was going to. That's one way to ensure that you keep moving. The Delahaye –Slaters were the only casualties, both coming home with bruised knees. Several of the steep hills had most of the field walking up due to being too slippy, if you had the energy to look around you were rewarded with stunning views of snow covered fields.
With Julies mantra of 'each step gets you closer to home' and the encouragement of Steve and at the end Sue Ward we all finished strongly with endorphins flowing. An excellent set of results with Linda first lady and Sarah third and the men also featuring high up in the field. A very good day at the office, an excellent friendly event I would totally recommend.
Now I just need to try and stand up!
Cake rating 10/10 (Julies fruit cake, several pieces each).
Full Results (PDF).