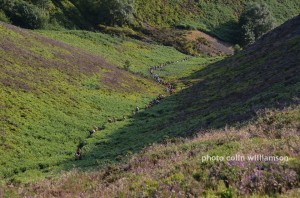 Lesley Pymm reports:  Back to the Stiperstones again so soon after the Eastridge 1/2M.  I do love it there.  The fell race started at the Stiperstones Inn.  I had no idea what the route was and was chatting before the run and discovered that we went along Mytton Dingle – this means loads of steps.  Apparently they change the direction sometimes, and I was relieved to hear that we started along Mytton Dingle – this means I was going up the steps not down them.  I had walked down last week and it was hard!
After a bit of a race briefing, we were off.  Knowing my place, I remained towards the back and started uphill.  We were on a lane to start with but soon went off road.  It was at this time that I could hear the youngsters behind me – they started a little time after us – and I moved over to let them pass.  Climbing the steps, I came across one of the juniors who was quite distressed, breathing very badly and crying.  I stopped to help her to get her breathing in order and she decided that she was going to go back down.  She was told to take it easy and head for the marshal a little way down.  I carried on. I hadn't lost much time and it really didn't matter.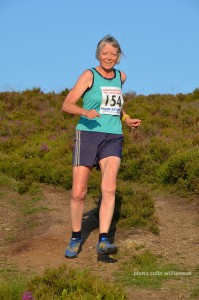 I got to the top to the climb and some juniors were just ahead.  They were directed to the right, I was just about to follow when I was directed to the left!  I was now going downhill, and following very overgrown paths.  It was very difficult and I was going very slowly.  One of the faster runners came back, she had gone over her ankle and decided to call it a night.  I wasn't taking any chances.  At the bottom of the hill I went through a boggy bit – good job it hadn't rained much lately!  Then over  a stile, only to have the person behind me open the gate next to the stile!
Then we were going up again, still on very overgrown paths.  Gaining the end of this section, I turned right and followed the fence on ground that was easier to run on.  Looking over there were lovely views and someone was up in a hot air balloon.  It all looked fantastic.  I could see two young women ahead, but did not think I would catch them
A bit more uphill and then I was on the ridge and it was all looking familiar from the 1/2M the other day!  After a while I could see Devil's Chair ahead with another balloon behind it.  I knew I did not have to go that far to carried on until I got to the bit just below Shepherds Rock.  Now it was downhill and the same course that I knew from the Devil's Chair Dash.
Some parts were very steep.  Apparently the two youngsters ahead of me (from Tipton) had really enjoyed this and had rolled down the one hill.  Through a gate, that crashed behind me, and onto a stoney track.  The gate crashed again very soon after and I knew that Geoff was just behind me.  I managed to put on a spurt and got to the bottom about 11 seconds ahead of him!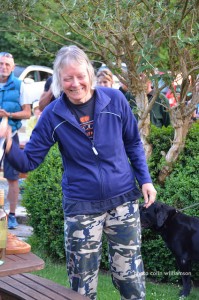 What a fantastic run!  Also won my category!  You can't see the wine on the photo, but that's what it was!
Stiperstones Hill Race