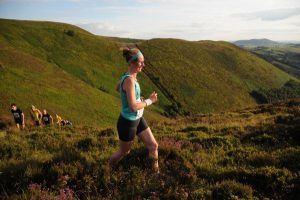 Lesley Pymm reports:  The penultimate race in the summer series and there were two from BvH there.  I love this event.  It starts by the Stiperstones Inn in Shropshire and goes off up the lane towards the hill fort.  There used to be a junior run, but this is being held in a couple of weeks, so I was not tripped up by fast youngsters as I was trying to run up the first hill.  It has been 'improved' and there are now steps – I don't do steps!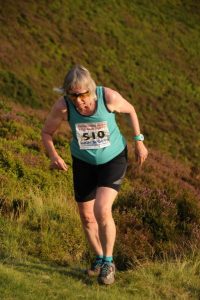 I got to the top and then it is off to the left and following a sheep track along and then downhill again – where we found the only bit of bog around (it has been very dry).  Following the path down I got to a gate where I remembered I had climbed the stile last time I did it, only to be overtaken by the person who used the gate.  Through the gate and then climbing again.
It is a difficult climb at times as you can't always see if there is anything to step on.  Reaching the top, I turned to the right and followed the path along by the fence.  I turned to run past a herd of cattle who were obviously wondering what was going on and then I was on the ridge and heading towards Shepherds Rock.
At the cairn, it was a sharp right and the long downhill started.  Difficult to see as the sun was in my eyes, but I headed downhill towards Perkins Beach – aware that a friend has beaten me on all the downhills so far this season.  It seemed never ending and I charged into the finish area, amazed that I hadn't been passed.  Laura and her brother-in-law were waiting for me with Mike.
Great event.  It was a lovely evening to be in such a great place.  It was totally still up there and beautiful.  5.1k and 244m of climb – what a great way to spend a summer evening.