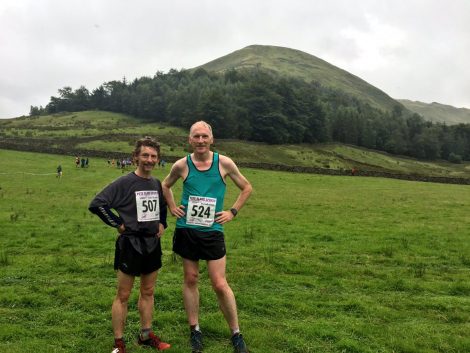 From Dave Harte: This is my second race report on the Steel Fell race. Two years ago I completed the circa 5k distance in 30:49 and came 45th. This year my time was 30:48 and I came 44th. That's the most incremental of improvements….
The race is graded AS (A=steep, S=short) and a field of 76 runners ran from a farmer's field at the base of this 533m high peak.
The climb is about 250m and begins on a tarmac path for 500m before turning into a sharp incline up the side of the fell. Everyone walks this as it is impossible to run and it's a matter of who has the energy to walk quickly enough.
As the fell levels out there's another 500-ish metres to the peak itself before the return back down the fell. And like two years ago, here's where I lost lots of places.
I know, having read up on it, that to run downhill off a fell one needs to take long strides and be fearless, picking your way carefully but not shortening your stride and braking yourself.
That may be the theory but I still can't seem to carry it out in practice. I ran downhill as if was the annual race of the health and safety inspector association and was therefore overtaken by about 10 runners.
The race finished in the farmer's field and the light drizzle helped cool everyone off. I doubt I need to do more than one fell race a year and this is such a fun, relaxed, and thankfully short, race that I suspect I will return again should my annual walking holiday coincide.
It was good to see a fellow midlander in the guise of Simon Pipe who was running his first ever fell race (pictured).