I missed this race last year as I was struggling with shin splints, and since it is local I decided to have a run at A-goal marathon pace (9mm) on the final Sunday before Manchester Marathon. A few other Harriers were running too, with the promise of a wooden medal and the usual Team Teal spirit to look forward to.
A small field of around 150 runners meant that parking was easy enough, and given the turnout I'm used to seeing at Cannon Hill parkrun it seemed oddly quiet. The registration was also very calm in the mac building, with great facilities and no queues for the loos! I was pleased to pick up a nice round race number (100!) whilst chatting to some fellow runners.
It was a dry and clear day but as we all realised on the start line, the wind was strong and that made it feel a bit chilly. We set off from the lodge near the gate and I looked around and was pleased to see Bournville well represented in amongst the runners. We headed off up the slight hill towards the tea room (where Taz was waiting with his trusty camera!) and clockwise past the bandstand. At this point it was feeling very much like parkrun although I was reminding myself that I needed to stick to my pace plan as I saw the others pull away ahead of me.
We ran out to the triangle and then along past the football pitches and round the bollard, as we do in the Conductive Education 10k. It was great to see that Linda Howell and Sarah Rock were amongst the leading ladies and both looking strong. I loved this section, seeing my fellow team mates and having enough breath to give them a bit more vocal support than I would usually muster. Back into the park and out again onto the road and back in again at the Nature Centre I was really struggling with my instinct to pick up the pace and race it. Simon Newman and Antony Stewart were enjoying a run around the park in the opposite direction and giving plenty of encouragement and I also saw Helen Lawrence out enjoying her final Sunday run before next week's marathon. It was great to see so many people out and about.
On the second lap the wind, which had already felt quite strong the first time around, seemed to intensify and the long straight out along the Rea Valley route was hard work. It would have been difficult to get a PB today, although the course is nice and flat. Fortunately it wasn't a worry for me as I focussed on sticking to my pace as best I could. I knew I had gone a bit quicker than intended in the second mile and was trying to slow it down without going over the planned pace. I kept forgetting that it wasn't a race, especially as I found myself to-ing and fro-ing with a chap from Kings Heath who I recognised from parkrun.
I decided that I would run the last kilometre a bit harder, for the feeling of finishing strong. I enjoyed the final push for home hearing the Teal Army shouting me from the finish line and I think I may have even managed a smile for the camera instead of my usual grimace! My splits show that apart from the second and last mile I stuck pretty closely to the planned pace, so I was really pleased with that. The wooden medal made a good change from the usual bling!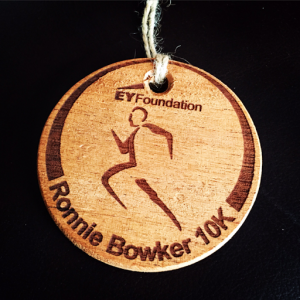 There were some great performances, in spite of the unfavourable conditions, with Linda as our leading runner, just missing out on the podium. After the obligatory team photo (with a backdrop which was a big improvement on the recent portable loos and vans!) a few of us enjoyed a cup of tea and a chat at the mac before heading home. This was a great little race, good organisation, friendly marshals and with PB potential in the right weather it is one that I will definitely do again.
Photo courtesy of Taz Memon Yousaf
Stacey Marston