Lesley Pymm reports: After weeks of sunshine, the first rain for ages was on the evening of the final race in the Spring Treble Series. It really cooled things down a bit and was very welcome.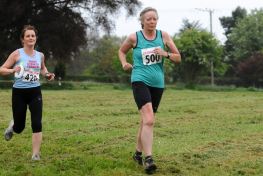 Underfoot it was still pretty dry although some places were slippery and care had to be taken. I found the steep downhill section (that we do 3 times) much easier than usual as it can be quite churned up. There are a lot of steps in this event and as it is three laps we get very familiar with them. The second lap took me longer than the other two as I had to make way for faster runners on the steps. It is always good to get that lap out of the way!
A good event to complete a good series. Apparently there are likely to be some changes next year as some of the venues have been upping their charges and the organisers will be looking for alternatives. They seem keen to carry on anyway.
Women's results (PDF)