Lesley Pymm reports: Once again I have taken part in Stone Master Marathoners Spring Treble. I really enjoy this series of three races, even if they are a bit of a long way to go on a Thursday evening!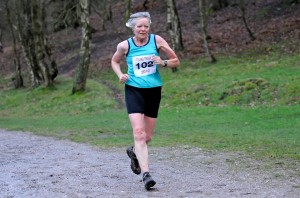 The first event this year was at Hanchurch Woods, and was fairly dry. This is a one lap course around woodland with some climbs. There was a bit of mud, but nothing to talk of really. I was really pleased with my time as I knocked over 5 minutes off the previous years time, and that course had been totally dry. I was perhaps a little less happy when I found out the next morning that I could hardly walk as my arthritis had flared up. I was unable to run the relays as a result.
Anyway, the second event was at Milford on Cannock Chase. My knee was not quite right, but I ran it anyway trying to keep everything steady and not really racing. This is a two lap course with an evil hill on the way out and back. Again it was dry and the surface was good.
The third event was a new one – we had previously run at Kibblestone, a course that I did not really like as there were loads of steps. The Kibblestone costs had gone up so much that SMM had to find an alternative course. The race, called the Barlaston Ups and Downs, started and finished at Oulton Cricket Club. We ran out onto the road, turned right and went downhill, and downhill, and downhill – with cheery marshals reminding us that we come back the same way!
Eventually at the bottom of the hill we went over a ford (I am sorry to say that we used the bridge) and turned off road and alongside a stream before going uphill, and uphill, and uphill – get the picture? At the top, by a beacon we turned again and went downhill – quite slippery for those not wearing the right shoes. We eventually reached the road again, turned right and up to the ford where we did the loop again. This time, on reaching the road a marshal suggested a voluntary 3rd loop.
I declined and turned left to ascend the hill again. I told myself it was good practice for the Killer Mile later in the year and later discovered that SMM use it as their Killer Mile!
The rain held off. There were showers for the men!!! Real ale bar and a buffet after the prize giving. This is a really friendly series, cheap with a T shirt and goody bag. Very good value – apart from the petrol to get there!
The good news is that knee does not feel too bad afterwards!