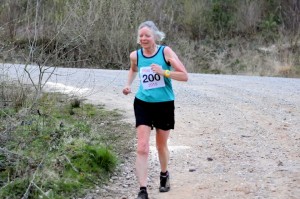 Lesley Pymm reports:  One of my favourite series of the year, but my knee wasn't agreeing with me!  The first event, Hanchurch Hilly, takes place over a one lap course in Hanchurch Woods.  I had a warm up and decided that the knee was OK when I got going.  The race starts fairly level and then goes down hill on decent tracks.  We loop around the woods and eventually get some climbs.  It can sometimes get very muddy, but was almost totally dry this year.
It was only when I looked at the video taken by Bryan Dale that I realised that I had limped when I was running.  Not much wonder my time was so dreadful.  I was hoping for improvement for the second event!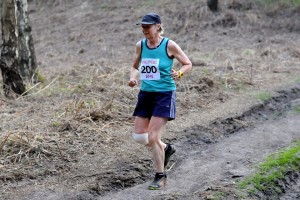 The following week we all turned up at Milford Common on Cannock Chase for the Milford Murder.  I had taken the precaution of wearing a knee brace, although it was not as bad as the week before.  This event starts with a climb, then a downhill and then two loops around the chase before climbing back up and over again, the opposite way to going out.  My time was not great, but I finished and it did not hurt too much, although my time was still not good.
The final event, Barlaston Ups and Downs, is based at Olton Cricket Club near Stone, and I was really hopeful that everyting would go well.  I had the knee brace on again, but everything felt OK.  I had forgotten about the start!  Approx 3/4 mile downhill on tarmac.  It was so painful and everyone just went charging past me.  About 1/2 way down I had to stop and pull the knee thing up or it would have ended up around my ankle.  It got better after that.  The course levelled off as we got off the road.  Then there was a water crossing and a good long climb.  I could see a couple of friends ahead and really wanted to beat them!  The downhill was good – off road.  The only problem was that the sun was in my eyes and I had to be careful of tree roots.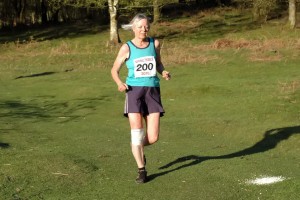 Once that was safely negotiated, there was a track out onto the road again and after a very short downhill I started on the loop again.  I was closing the gap on my friends, especially on the uphill section and was pretty confident that I'd overtake them on the road climb at the finish.  On the loop, the downhill was better as the sun had dropped.  Everything was going well and I got back out onto the road again and was closing the gap.  I overtook one of my friends but there was no chance of getting the other one.  I had beaten him on the first two events and he was not letting me have this one!  Once again, I was disappointed with my time – and knew that I had to take things a bit easier for a while.
This is a great little series. All the events are about 5 miles.  It is reasonably priced and you get a technical T Shirt; after the final event there is a small goody bag with bits to eat and drink in it, and a buffet at the prize giving.  Really good value – just a pity it is so far from Brum!