Lesley Pymm reports: The first of the three events in the Spring Treble was on Thursday evening, 14th April.
It was a pretty dull evening, but surprisingly warm – the T-shirt under the vest was a mistake! It was the same circa 5 mile course as last year and was very dry. I am so used to it being muddy underfoot there and the last two years have been very dry. This run takes place in Hanchurch Woods near Stoke and is a really good, challenging course.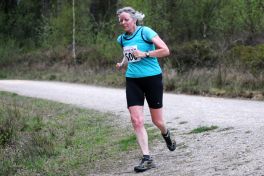 I knocked a couple of minutes off last years time, which I was pleased about – especially as I had done a track session the day before. The event next week will be at Milford Common and then two weeks after that is the final event at Kibblestone. That one is a killer with three laps and steps on each of them.
Results here though curiously no names, just numbers