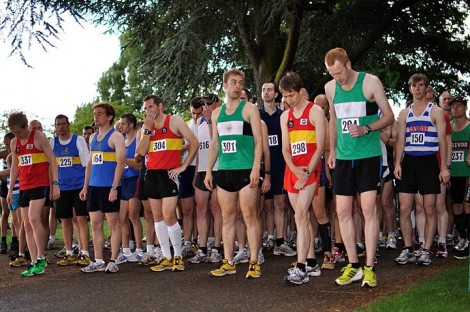 Andrew Halliday reports: Wednesday 29 June 2011 saw the running of the Sphinx AC Summer 5. The race is two laps of Coventry War Memorial Park, but going out of the Park for a couple of long stretches.
The course is a bit like the Centurion 5 mile race (which is forming part of the Grand Prix series this year), but with some more turns and undulations.
For probably the first time this year I felt in A1 condition going into the race, meaning both mentally and physically, and had targeted trying to beat John Solly's BvH 5 mile time of 26m 54s (which is 2nd on the BvH all-time list).
At the start line were a few familiar rivals, including Richard Simkiss and Phil Gould of Kenilworth, and Richard White of BRAT, so I knew it would be a good race with a strong field.
I had decided to pace the race and rely on the sprint finish. The race did start fast though, and even though I clocked a 5m 9sec first mile it left me some way off the 3 front runners, which included Simkiss and White, and a Coventry Godiva runner. I was part of the chasing pack of 4 runners for the next 3 miles, who managed to catch White for the last mile. It became evidently clear that the placings from 3rd to 7th would be decided on the sprint finish and so I made my move with about 500m to go on the uphill section and pulled clear to finish in 3rd place. Simkiss was 2nd and the Godiva runner well clear in 1st place.
Unfortunately, even though I ran my best race at this distance, I finished in a time of 27m 7sec, just outside of Mr Jolly's BvH time. I had gone through the 5 mile barrier in 26m 40sec but the Sphinx race is closer to 8.2k and so I will just have to pick another 5 mile race to try and edge my way up the BvH leader board (I hear the Alsager 5 mile is a good one).
Not many other BvH runners there from what I could see, but congrats to Barry Garner who came 52nd in 31m 43secs.
Results (PDF).