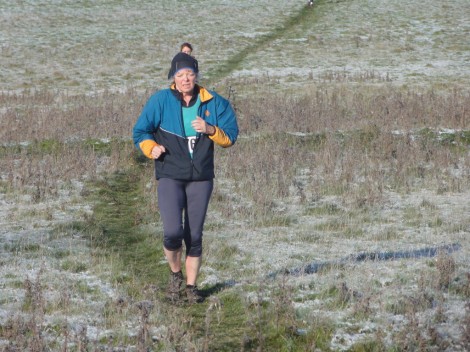 Lesley Pymm reports: This was the first time I have run the Coombe 8, near Coventry. As I left home and the temperature showed -7, I was confidently telling myself that it would warm up by the time I got there. As I drove down the motorway it got colder and colder.
Just before I got to Coombe it was showing -10, so I was pleased when it increased to -9.5 as I drove onto the car park. I really had not expected it to be so cold and did not have much of a choice of clothes with me, so ran in what I had! It is a long time since I ran in a jacket, but it stayed on all the time.
The course was fantastic. It is quite a complicated course which takes you round and about the park, over bridges, through woods and over fields. In the last couple of miles it goes through the bomb craters left by the Luftwaffe during the blitz of Coventry in WWII!
I can imagine that it could be quite tricky in wet and muddy weather, but it was just hard underfoot today as it was so frozen. The sun was shining and all in all it was a lovely run. The marshals were really supportive and it must have been so cold for them, at least the runners kept moving.
At the end we got a bottle of water – which was a bit cold so I didn't bother with it, a long sleeved T-shirt and some very welcome soup. A definite for the diary.
Results here (PDF).