Lesley Pymm reports:  When I ran the Cross Bay Challenge last year, someone recommended this one – and I was not disappointed.  We obviously made a weekend of it and ran the South Shields parkrun first.  This was in the same area as the 10, so it gave me a chance to familiairise myself with the location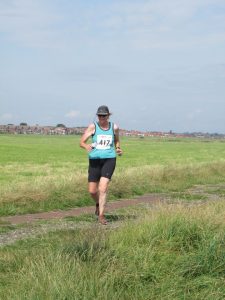 .  It was on beautiful National Trust land on the coast and everyone was very keen to point out that the finish was the final mile of the GNR – that was the bit that I didn't like that much.  Very friendly though and coffee was in a pub afterwards.
The South Shields 10 started by Souter Lighthouse – more NT land.  The weather was glorious but there were a number of drink stations.  We started off and very soon came to a stop as there was a gate that we all had to get through.  We could see the faster runners getting further and further away as we all queued to get through the gate.  Eventually we were away.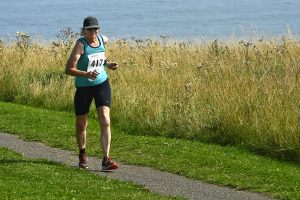 There is a loop south of the lighthouse and then we ran along towards town and the area where parkrun had been the day before and ran two loops there. before coming back and repeating the first loop again and finishing by the lighthouse.   It was all amazingly beautiful with great views out to sea.  Mainly runnable – there were a few steps that I found difficult but out of 10 miles that was all.
Everyone was so friendly and I was given lots of support from people who were lapping me on the loops.
We explored the lighthouse afterwards and ate ice cream.  What a way to spend summer!