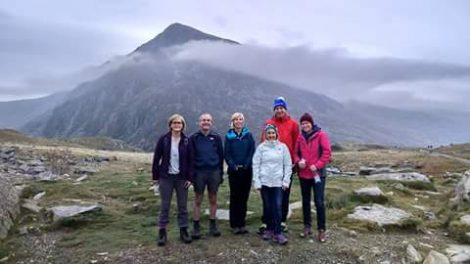 Simon Newman reports on an epic race: I entered the Snowdonia marathon at the beginning of the year – actually it was on New year's day as this one usually sells out within a few hours, I thought it would be something nice to round my running off for the year.
One race not to worry about times and really just try to enjoy it especially as the elevation is over  1200ft with three huge hills !
It's a Saturday race so the day before Sharon and myself set off to the b&b in Beddgelert to meet the other Harrier's Helen Nicola Suz and John.
We drove straight to the expo to collect our numbers and t-shirt, while inside we got to see the map of the course which shown the huge hills we were going to be running up.
Helen booked a table in one of the local pubs and we all enjoyed a nice meal and a couple of pints, the next morning we set off for our 20 min journey to the start which is in Llanberis where we met Antony John and Richard.
We hung around the usual areas, toilet block and coffee hut, usually we would be doing a bit of a warm up but this race seemed so much more relaxed than others so with about 20 mins to go we thought we better head to the start which was about a 10 minute walk, we had lost Suz and Nicola at this point so we walked up and wished each other good luck. I started with Antony at the back of the race so of had to start navigating our way through.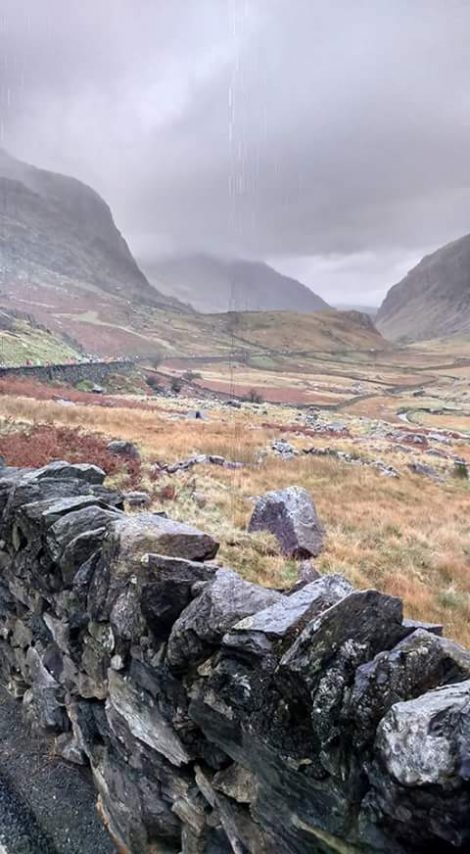 I caught up with Suz and Nicola and had a little chat before carrying on up the first steep hill, what a lovely sight once at the top of Llanberis, at this point if you know it you are right next to the start of the Pyg and Miners track, this brought back great memories of when Nicola and myself and a few other BvH completed the 24 hour 3 Peaks challenge a few years ago.
You then drop down the other side for about a mile before turning right towards Beddgelert  down a rocky trail path with water troughs which you do a sort of jump, skipping motion over. At the half way point we passed our hotel and I remember having to stop to re do my shoe laces as they felt too tight I carried on and glancing over to the hotel thinking "I'll be having a few pints in there later"
We were now on the second hill which actually wasn't too bad so now you enjoy a little bit more flat before getting to mile 22 where you are greeted with the biggest hill I've ever ran up, sorry but Killer Mile has nothing on this one, I say ran but it was one of a hobble, hands on both knees doing a fast kind of walk.
Just at the start of the hill I heard my name being shouted and looked up I could see Anthony's daughters and his wife Nicola giving me some much needed support at this stage of the course.
I tried not to look up too much as the hill was never-ending but when I did I noticed a teal vest quite far in the distance I had no idea who it was at this stage but this gave me a bit of a boost, probably stopped me from walking as most of the people around me were already doing so and some had completely stopped for a breather. I carried on to catch the mystery BvH I got next to him and it was Rich Rollins, we spoke for a bit but cramp had got the better of him and was struggling a bit so I pushed as now we were closing in on mile 24.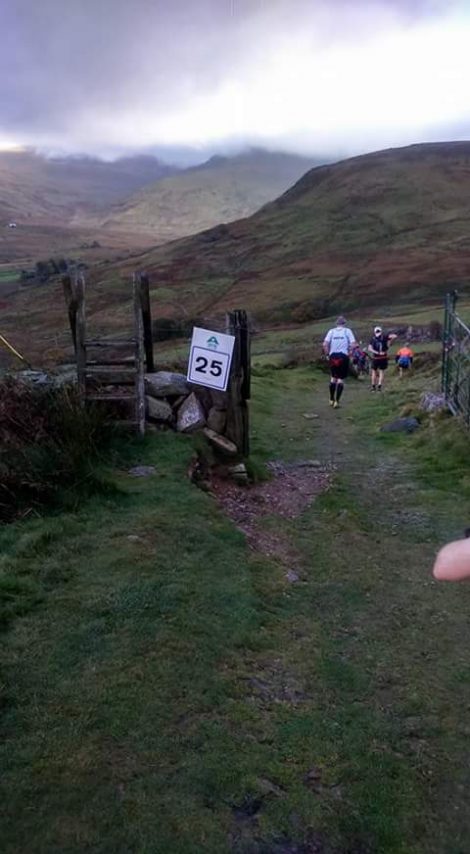 I could hear spectators shouting it's all downhill once you're at the top, all I thought was yeah but I've got to get to the bloody top first!
Well, they were right and it seemed like just a sheer drop, it was actually harder running down the last hill than going up, I was really pleased to see Sharon at about half a mile from the finish line shouting and armed with her camera.
We all finished and collected our finishers slate coaster and then enjoyed a celebration meal with erm quite a few well deserved drinks that evening as we were staying over another night.
The next morning Helen had arranged a walk up one of the mountains, just what we need to loosen our marathon legs 🙂
(I've used Helen's photos which was taken while running the course)
I had no idea what to expect time wise but I was pleased to finish in 03:25.
Results:
John McKeon          03:21:45
Simon Newman     03:25:58
Richard Rollins        03:33:53
Antony Stewart     04:12:54
Suz West                  04:15:19
Nicola Morris          04:19:35
Helen Lawrence    04:52:39
John Cheel              05:15:19