Suz West reports: After getting lost and going for a short tour of wWillenhall I eventually found the school where the xmas pudding race was starting from.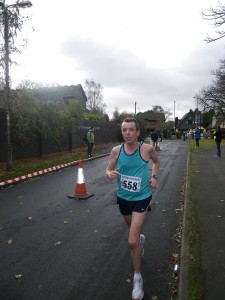 Everything seemed well organised with plenty of parking. I went to get my number and as I was early had a little slow jog about mainly to make sure the knee support I had bought the day before didn't fall off when i ran (it stayed in place, plus my knee felt ok).
As there was going to be quite a few BvH I wasn't on my own for long and so I joined Caroline, Chris, Gareth and Paul for a warm-up which was diffrent warming up with the fast runners now I was definitaley sure my knee support was gonna do its job and I have to say I was definatley warm!!
I went back inside for a bit and headed to the queue for the toilets debating if I should take my long sleeves off as I was boiling but there was no time. By the time I got to the front of the queue so I ran long sleeved and having read about xc my next time out in teals will not consist of long sleeves!!!
We made our way to the start. Without much hanging about we seemed to be off quickly, the course was not as flat as I had anticipted but not to hard either there seemed quite a few gentle inclines, firstly through some houses and out onto a rather long stretch of road. My plan was to take it easy as my fitness is not at its best having cut back training through injury.
However once among a load of enthusastic runners my common sense leaves me so off I went chasing a guy dressed as an elf in a green dress!! I heard a few local runners saying we were coming to the pub and suggesting they go there for lunch,this road seemed to be going on a long time. I saw a sign for drinks which was a relief as I was very thirsty probably even more so having over heard the pub conversation.
Then we turned into another long road we did pass a few fields at this point, which was nice as it wasn't the most scenic race. By this point I had got into a nice pace and my knee was holding up, just a bit further till I reached the second lap I started to get a bit tired around this point probably due to my decreased training anyway I was determined to keep going and given some words of encouragement by Simon who had been chasing me for a while, he over took me but I had over taken the elf by now!
A few people shouted my name I'm not sure who they were but thank you. Also just before returning to the big road with the pub which by the way was getting more and more tempting a marshal who was directing runners to stay on the one side of the road shouted to me Bournville are my number one club I'm presuming that's because we were staying on the right side of the road.
Back past the drinks station and the second lap of the scenic part by now my tiredness had gone and I put it down to my over eager start, I went past a few other runners and found myself in competition with an older guy who was a cobra we spent the mile over taking each other both of us as determined as the other not to let the other past, there was a gradual incline which is where I lost him he was behind me!
One mile left down hill so a nice finish if your not suffering with runners knee, not so great for me it was only on this last part I was having trouble with my injury a few BvH encouraged me to chase the girl in front which I did catch her up but only for a few seconds she actually said we can finish together which was nice however I slowed down I knew keeping up would make my injury worse and yes my common sense had returned with 200 meters to go, I told her to carry on and thanked her for the gesture.
So I slightly hobbled across the line but after some stretching my knee was no where near as bad as it has been, so feeling happy my knee is getting better al bit a bit slowly for me and I got a PB (I've never done 10 miles so this was guaranteed however 1 hour 16 was not what I expected really as my plan was to take it easy!)so I'm extremely happy with this.
The goody bag consisted of a taxi bar, banana, coaster and of course the xmas pudding!!
In all it was an enjoyable race and one I will do next year, hopefully injury free. Another great day out with BvH 🙂