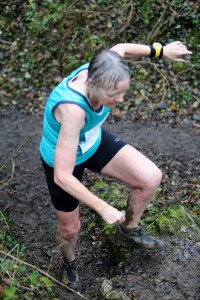 Lesley Pymm reports:  For the second year running, the Christmas visit to Mike's grandchildren in Bath coincided with the Bath Skyline 10k.  I recorded a personal worst for 10k last year on a very muddy course and so I wanted to see if I could go even slower.  Apparently the course was officially the muddiest that it has ever been – the gales just added to the fun!
This is a two lap course, with 5k runners doing the first lap with us.  I learned from my mistake last year and started up near the front so that I avoided the people who were very, very slow!  Within the first 100 meters or so, there were runners avoiding puddles so I was able to run through the middle of them.  The course starts off on a field before going along a path at the back of the student accommodation at Bath Uni.  It was then through some woods and a field bringing us onto National Trust land and the Sham Castle.
There were a few stiles and a very muddy drop down from the Sham Castle where there were queues.  It was really affecting my stride as I was siezing up with all the stopping and I really hoped that the second lap would be easier as there would be fewer runners.  There was a lovely run over the top of the skyline and then it was a very tricky and muddy woody section where you really did have to keep an eye open and avoid tree roots and rocks.
After that, a sharp right hand turn and there is a steep climb up beside a small outcrop of rocks.  Then over a couple of fields and a climb over a wall and into a very muddy path before running back to do it all again.  During the first lap there was quite heavy rain, and on the second lap it was so windy on these fields that my hair was dried again. By the time I got to this stage the second time around my feet had collected so much mud that I must have been about 3 inches taller.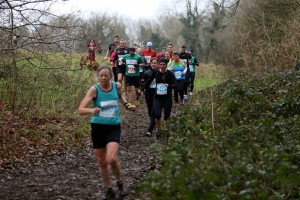 It is a lovely run, just a pity that there is no way of avoiding the bottlenecks.  It is a short series of 4 races over the winter months, with two different courses alternating.  This year, for those who were running the series, they had three different medals that, together, formed the Sham Castle.  For those just running the one event there was a smaller medal with the castle on.  I'm not really a lover of medals, but it would have been nice to have got the set if I lived closer!
The facilities at the Sports Village at Bath University were not great as the showers were dangerously hot – and with that amount of mud on it was necessary to shower before going off to meet family for lunch!  Oh – and I failed in my mission as my time was about a minute faster than last year!!!