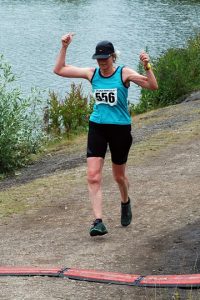 Lesley Pymm reports:  This was a new one for me, although it has been running for three years now.  It was held at Silverdale Country Park, near Newcastle, Staffs.  The race HQ was in the football club so facilities were really good.  No loo queue and there were showers and a bar after.
I had pre-entered and got there early so was hanging about while they got organized. There was another woman there who had pre-entered for the main run, but who was also entering the fun run.  She said it was because they got a cow bell for doing that.  I must admit, I was tempted.
It was drizzling outside and I was hanging about the race HQ.  They announced that there would be a delay with the starts as there was still a massive queue to enter.  I think that they could have made their lives easier by positioning the tables differently and having three separate lines – pre-entered, on the day and fun run.  Anyway, they eventually announced that the fun run was about to start, so we all made our way into the country park.
Of course, as there were a number of senior runners doing the fun run, we had to wait until they had finished before we started.  Eventually the senior race was able to start and off we went.
It started on a stony path, downhill and then we went round a bend and started climbing.  This took us past the finish line and there were all the fun runners clanging their cow bells – you thought BvH were a loud lot, these kids beat us hands down.
The route was very complicated – I had looked at a map, but it was meaningless, so I just relied on following the person in front and the marshals and signs.  This worked well.  It was a good course with some hills.  Some of it was grassy, other areas were harder surface and some of it was loose stone.  It was well marshaled and really enjoyable.
The sun came out and it did get a bit warm.  There was one bit where I had climbed fairly high and there was an amazing view with all these runners on different paths everywhere.  I couldn't work out who was in front and who behind!  There was a final downhill and then it was around a lake to the finish.  It was slightly over 5 miles.
We were given a mug and some Joules beer tokens.  I don't usually drink after a run, but was looking forward to this.  After my shower I headed to the bar to use my tokens and was really disappointed to find that although they had Joules beer there, the tokens were only to be used for larger.  I ended up buying a couple of halves of Joules – there was no way I drinking larger, even if it was 'craft'.
Cakes were good.  I won my category and that was a useful sports bag and a box of sweets.
There was also a treasure hunt for families taking place after we finished – I saw some of the treasure as I was running. It was all in aid of charities.
A good event, lots to recommend it.