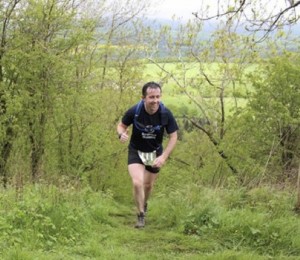 From Mark Doudican: The race 18 months in the making.
I apologies if this race report is a bit later than planned, but it was a hard one for me to write.
In the 5 years that I've been a BvH member i've never submitted a report, but from the start this was always going to be the first.
At the 2014 BvH Xmas party I had a slightly intoxicated conversation with our present chairperson and agreed to give marathon distance a go.
As my first love in running is trail, I was off to find something different and decided on the excellently named 'Shin Dig in the Shire Marathon, May 2015'.
Entry went in, training plan finalised and all good to go. Following 4 months dedicated training I was feeling great, running over increasingly new distances and was ready to race.
Then 2 weeks before the race I became ill with a virus that would take me away from running for 5 months. The return to running started all the way back a square one (1 mile round the block)
Then after another 4 months of hard work trying to regain my fitness, I thought I would try again.
This time I became ill with 6 weeks to go. Decision made by the Doctor 'forget about marathon's for a while'
So on the morning of 21st May 2016 I had mixed emotions. Happy that I had finally made it to the start line with a decent level of fitness. But a slight tinge of sadness that I had needed to drop down to the half distance. But here goes…
———————————————–
The Shin Dig in the Shire race is set in the Clee Hills in Shropshire. Start and finish are at a local pub in the small village of Corfton. Myself and Linda Howell arrived an hour before the race for registration and number pick-up. As this was in the pub, there was the option of a pre-race full English breakfast. Tempting, but perhaps not this time.
A field of 155 runners assembled in the pub car park for the race briefing, everybody looked like serious trail runners, definitely no fancy dress costume here.
As Linda had race this the previous year (coming 7th), I gathered a bit of info about the start and what to look out for in the early stages.
Horn goes, and we are off. The first 1.5 miles are all up hill to get the blood flowing, no easy start. Half way up the hill I was in my usual plodding pace, when I look towards the front of the field the see Linda leading the pack over the summit in her best Gazelle impression. This was to be the last I saw of her for a long time.
Over Acorn Coppice and down towards the village of Middlehope. The scenery here was fantastic, lots of trails though fields and woodlands. I was happily plodding along in a world of my own just glad to be there.
At 4 miles the route picks up the an old bridle way at Wenlock Edge. For the next 4 miles its all single track woodlands. Lots of mud, up and down path, jumping over fallen trees and picking your route through the bushes. The stuff that I love about trail running. I could have continued like this all day.
Just past the water station at 8 miles the course take a turn that can only be described as 'straight up'.
There is a sign in some bushes showing the course, but there was very little by way of a path. The chances of anything that are faster than a walk are zero. This takes you up through the trees for half a mile with an average gradient of 30%.
Half way up I pass a guy who is just hanging onto a tree to stop him falling back. The words 'I'm broken, I didn't expect it to be this hard' are coming from him as I stagger past. (More about him later).
At the top of the climb we are treated to an amazing view of Shropshire into the Welsh borders.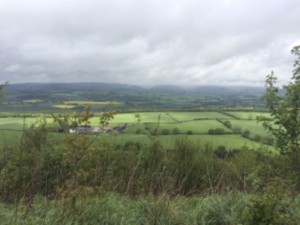 What goes up must come down. And in this case it was another 1.5 miles of muddy woodland skipping. Fantastic, just what the quads ordered.
At this point I was starting to feel the effect of all the climbing but was happy that I didn't seem to be loosing any places and everybody else was in the same state.
One last hill to climb, this one was 'only' 1.5mile and 10%, but at that stage the legs were screaming.
Over the top, I then realise we have looped back to the starting route. 1.5 miles downhill to the finish. At this point I was so happy to know that I was going to finish that I just opened the throttle and went for it. Running flat out downhill with a big beaming smile on my face.
Finished in 2:22:25. But the time didn't matter, I was just glad to have finally made it to the start line.
Linda improved on her time from last year finishing 5th in 1:58:39.
Remember the guy who was hanging onto the tree. Well, as we were sat in the pub eating our post race chilli, it turns out he is a friend of a friend of mine. We got talking to him (or what was left of him). He told us that when he finally make it to the top of the hill he was so exhausted that he started wander all over the path. He then tried to eat the foliage to get some energy. Finally some other runners took pity on him and gave up some energy bars and gels.   First time i've heard of wild foraging mid race. I'll stick to the Shotblocs
Now its been a couple of weeks since the race and I have mixed emotions about it. Would I have been able to do 2 laps on the day. No chance.
Is it an itch that still needs to scratched in the future. Maybe, we'll see.