Lesley Pymm reports:  This is one of those races that I've known about for ages, but at only about 3 miles and near Cressage it seemed a bit of a long way to go for a very short run.  Anyway, Mike and I had been for a day out at Oswestry Old Hill Fort and decided that Sheinton was not far out of the way coming back, so I'd do it.
It is called the steeplechase, I think, because it is in aid of the church in the village.  When we approached the village from Cressage the view seemed to confirm that it was a steeple, however when we got there it was clear that this is a tower with a pointy bit on the top.  Anyway, it was a really lovely little church.  Parking was on the field opposite and they let me change in the vestry.
The run started on road, not my favorite surface, and we were warned that there were roadworks on the main road and so the village was being used as a 'rat run', so be careful.  We were also warned that one of the stiles was very rickety and may not survive the race.  Off we went down the hill and then took a turn to the left.  As I was running along I was aware of a lot of mechanical noise behind me.  As it passed on the narrow lane which was, by this time, going uphill I realised that it was a JCB with a bucket on the front.  It was very tempting to leap into the bucket, but I didn't.  He couldn't get past the runners ahead of me but eventually turned off into a farmyard.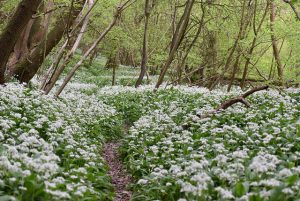 We went on past and then turned onto a track.  And soon were going though woods.  It was glorious.  There was wild garlic everywhere and the smell was lovely.    It was worth the journey for this alone.
There was a bit of grass and then over the rickety stile.  It wasn't too bad and then back into some woods.  I came across a young woman sitting on the path.  I checked she was OK and she said she was, but was having a bit of a problem with asthma.  I kept going as I knew that Colin who took the photos was behind, so would assist her if necessary.
More fields with cattle and then sheep in them, and then it was onto a track and downhill to the village.
In hindsight it may be called the steeplechase because of all the stiles there were!
Presentations were in the church and there were loads of prizes donated by villagers.  The young woman who had the problem with asthma had managed to finish – she had walked back with someone who was going quite slowly.
I really enjoyed it and the worrying thing is that I may feel that I need to go back next year.