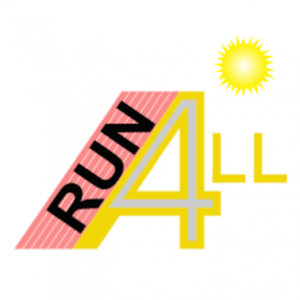 Dave Powner reports: I have a number of friends in Run4All Neath, and their Summer Series 5km has gone virtual, so it was a great opportunity for me to engage with them. It costs a small fee to enter, your 5km needed to be completed on the specific date, it had automated online entry and results, and there's a great team spirit on their Facebook page. So it had the feel of a big, proper event.
It fell on the first day in a while not to be hot and sunny, so I was glad of cooler temperature, but I feared the wet roads and headwind may cancel out the benefit.
The rules stated a requirement to start and finish in the same place, so I spent some time planning a two-lap figure-of-8 route, with an extra lap of the block at the start to bring the finish line closer in.
A retired neighbour was doing his ritual carwash just after the rain stopped, and saw me doing a lap of the block warming up. He asked what time I got for a lap of the block, as it's exactly half a mile. I promised him I would time my lap when I set off for my fast run a few minutes later!
This threw a psychological spanner in the works, as my race plan was to keep it steady for the first km, but I found myself wishing to report back a reasonable lap-of-the-block time!
After finishing my warm up in the back garden, I did a couple of strides down to the bottom of the road to start. Having been improving of late, my target was 22:30 – nowhere near a PB, but that would mark my best performance for over 12 months. As soon as I set off, I found my brain working on the target numbers – the per km pace was easy, but what was my lap-round-the-block half-mile time going to be? Inevitably, this made me go too fast, and my lap time registered 3:27. I didn't bother trying to do the maths to work out my pace, I would just await the surprise accompanying the 1km beep from my Garmin. It was 4:12. Even though I knew this was too fast to maintain, I was feeling good enough to be confident that I hadn't completely ruined my race. I eased off just a little.
A nice flat stretch of tarmac along the A38 was followed by a slight downhill, then through an empty car-park and onto a traffic-free road. things were going well. After a slight incline back onto the A38, I turned the corner to be faced with a headwind on a badly slabbed pavement busy with pedestrians. But once that was out the way, 3km was done, and I was inside my target pace. I do usually struggle on the 4th km of any 5km race, but on this occasion it was along the best section of the route – the flat tarmac with what must have been a tail wind (although I could swear it wasn't helping!). This 4th km proved to be only 1 second slower than my target pace, so I was confident now of acheiving my time. I felt myself beginning to slow and tire as I neared the end, so I picked up the cadence, and glanced at my Garmin which showed me there was 450m to go. I wasn't sure exactly where the finish line would be; I was just listening out for the km split beep from my Garmin. It was an agonising wait, and quite a relief when it came. 22:02.9 was comfortably inside my target, and encourages me to be ambitious for Race 2 of the series next month!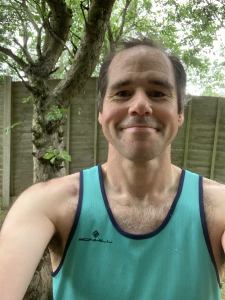 Frustratingly, I used Strava for my proof-of-performance link, but it rounded up my time to 22:04. Four!? Next month, I'll use the link from Garmin; that extra second could prove the difference between me and one of my Welsh mates!
Now for the extra bits – getting a selfie onto the Run4AllNeath facebook page, and giving my lap-round-the-block half-mile time to the neighbour…