Lesley Pymm reports:  As part of my attempt to run a load of new and different events this year, it would have been rude not to turn up for the Rugeley 10k.  I was trying out new fell shoes, which turned out to be a bit too aggressive for the course, but all my trail shoes were wet after other runs lately.  It gave me a chance to race in them anyway.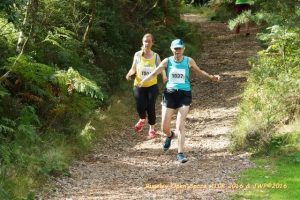 The race HQ was at Rugeley Leisure Centre – where the facilities were really good.  We started on grass outside the back of the Leisure Centre and ran onto a tarmac cycle path.  After a while we were on the Cannock Chase Heritage Trail.  The first half was predominantly uphill – which had to bode well for the second half!  Yes that was mainly downhill.
It was all trail apart from the tarmac section at the start.  I had decided that I was not racing as I was still a bit stiff and achy from other recent runs.  I was running along quite happily until just before 8k when I saw a friend ahead.  It had to be done.  I put on a spurt and passed her and then just had to keep going.  I must say that the last kilometer did seem exceptionally long!  The distance was spot on.
There was a banana, cereal bar and water at the end, as well as a medal.  I went off and had a shower.  It was good value – lovely low key, off road race, good facilities – all for £8.50.  I would certainly do it again.