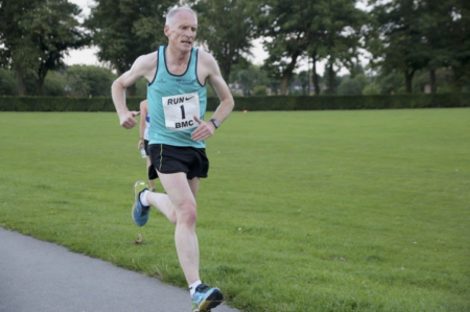 From Dave Harte: This was the first time I had run the BRAT Rowheath 5k since 2013. Prior to that it was a regular summer fixture for me since I first joined BvH in 2005.
In those heady days I could complete the course at circa 18 minutes but now I'm happy to get under 21 minutes which was the case this time.
I'll go on the basis that the route is well known to most BvHers. It starts fast downhill via Bournville Lane before a series of left turns take you back to Heath road and then onto a second lap. The finish is in the centre of Rowheath playing fields.
There was a higher-than-expected turnout (268) which resulted in some queuing for numbers. However, everyone made it to the start line and it started near enough at the advertised start time.
Despite only turning up on the night I was given race number 1. No pressure then. However, given this is a race where the first finisher is regularly around or below 15 minutes I was certainly not in contention for the top spot (this year's first place was 15:24, Jarlath McKenna MV35, Bristol & West).
I completed the course in 110th, 20:38, a time which matches my current Parkrun form. My attempt at a sprint finish was rewarded with a spot prize of a bottle of Prosecco.
I don't race as much as I did in my early BvH days but it was nice to return to the Brat 5k, even if the intervening years have seen me lose a couple of minutes or more worth of speed.
Other BvHers:
53rd 18:16 James Drakeford MSen
61st 18:36 Jonathon Mould MSen
153rd 22:02 Nick Hilton MV50
164th 22:35 Emily Holden LV35
186th 23:20 Jude Glynn LV50
187th 23:20 Jonathan Seadon
201st 24:19 Sam Pretlove LV40
208th 24:38 Martin Foster MV60
238th 27:10 Sharon Newman LV40
Results: https://www.bratclub.co.uk/documents/results/roadrunningxc/brat_5k_2017_results.pdf
(pic via Pete Hickman)