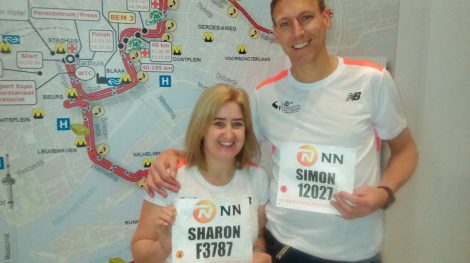 Simon Newman reports on the Highs and Lows of a Marathon Addict: I always have a goal for the marathon and felt my training had gone really well in the build up so I set myself a target of 03.05.00 and Sharon's was 04.10.00
We both did the Rome half marathon a few weeks earlier and I was really pleased to of run a new personal best of 82 minutes.
We got up early on the Saturday morning and set off in search of the Expo which was inside the Rotterdam World Trade Centre, lots of photo opportunities and anyone that knows me will know I don't mind the odd snap! 😀
So, its race day and its 25 degrees, woo hoo great if you are lying on a beach but not if you are running a marathon. I knew it was going to be warm but I never expected that.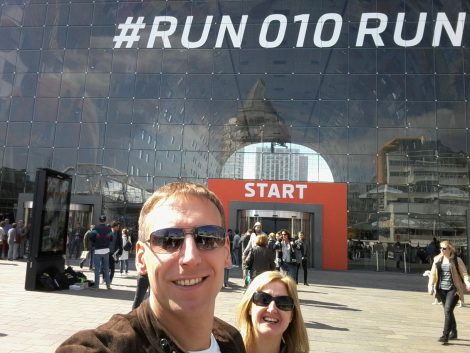 We set off to the start area struggled to find the bag drop at first as there were no signs also hardly any toilets, luckily a shop had set up a portable loo (with a small charge of course)
After all the faffing around we dumped our bags and headed to our pens we said our good lucks and planned to meet near the finish afterwards.
The gun went at 10am with the sun beating down and no shade to hide in, it took me a good couple of minutes to cross the line then we split in two sections, we were heading out towards the bridge and all you could see were thousands of runners each side of a dual carriage way, this reminded me of London, so congested but full of happy runners.
The support was brilliant,  everyone shouting my name and people standing on the sides with oranges, jelly babies and cups of water. (I'm always a bit dubious about having water off people when its not from a water station)
Mile 6: This was starting to be a bit of an effort when really I should be feeling great and loving every minute of it. Something wasn't right, I carried on and crossed the half way mark in 01.34 my chances of getting my gold time were slipping away.
I had a chat to a Wolvs and Bilston runner for about 10 mins and was really glad of the company, he was telling me he had ran the Manchester marathon a couple of weeks earlier and was also planning to do the London in a couple of weeks time, at this point we were with the 3.15 pacer group.
I decided to carry on ahead, there wasn't many water stations but when you did get to one they had plenty to go round. Small cups with a tiny sponge inside either to make drinking easier or use the sponge to soak your head.
I stopped at each station to make sure I drank enough water. I was lapping up all the support I could and was hoping to see Sharon at a out and back point, sadly I didn't, I struggled on to about 16 miles and this was the point the wheels fell off I could blame the heat but the truth is running the Rome half a few weeks earlier probably finished me off, I was at my peak then and the week after that I went and ran Ashby, I didn't give my body enough time to recover for this race, ok maybe the heat played a part too.
Mile 19: walking/jogging again I knew my time was slipping away, I thought ok, let's go for just under 3.15 and maybe I'll sneak a pb. kidding myself I then changed my plan to 3.20.
At this point the 3.15 group came whizzing past with the Wolves runner (who I so confidently left earlier on) shouting "keep going Bournville" I did get going and caught him up, we had a bit of a chat but I couldn't keep the pace going and just watched them run off into the distance, it reminded me of a pack of horses from a western just charging into the horizon.
I started to walk, hobble and crawl I stopped to undo my laces as I thought they felt too tight, this was probably all in my mind.
Mile 21: My legs were hurting, my head was burning and I had gel all over my hands and to top it off I desperately needed a drink!
I stopped to stretch my legs and two lovely supporters said can we help. . Ha, did I look that bad?  I had a very sweet orange drink from them and started to walk, a few steps ahead someone was holding out a sign with a stick on button saying press for power, I touched it and they all started cheering which made me start running, not very far but I did run !
Mile 23: A park run left, I can do this! The problem was as soon as I started to pick up the pace my left leg started to cramp up so I decided to run the last few at a steady pace, I say I decided to but I couldn't really run much quicker anyway.
Mile 25: I started thinking I hope this race isn't long, I need to finish, I needed to finish at mile 16, I thought all this with a smile on my face as I know there is nothing you can do when the marathon has started to squeeze the life out of you.
Mile 26.2: The finish line. What a welcomed sight! I did it. . . I've completed the Rotterdam marathon !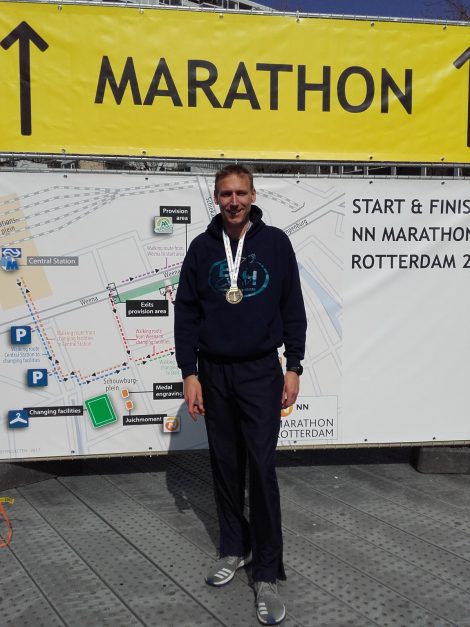 The Marshalls kept you walking along, put your medal around your neck and then shoved a box of already peeled bananas in your face, ughh no thanks, there were people lying in the road, piles of bodies on the kerbside all speaking a language I couldn't understand.
I went to collect my bag and spent a good half hour just chilling then went to the meeting point I had arranged with Sharon.
I waited in a cafe enjoying a sandwich and a coffee and got chatting to a couple of women who were waiting for their husbands to finish. They tracked Sharon for me so I knew when I had to peel myself off the chair and walk to the finish line.
I watched Sharon finish with a huge smile on her face, we then went to the bar to celebrate.  Good times!
Results
Simon Newman 03:25:56
Sharon Newman 04:50:49
This was my 10th marathon, after reading this you probably think it was my last. No chance! I can't wait for the next one.
Conclusion: 
Don't do back to back races within a month of a marathon.
Never underestimate how hard a marathon will be. It takes so much out of your body.
A huge achievement no matter what pace you run at.