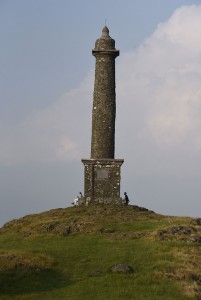 Lesley Pymm reports:  As I drove towards Criggion and looked up at the Breidden Hills I began to wonder what on earth I was doing there!!  It did look high and steep with the Pillar on the top.  It was a very warm afternoon and the sun was shining.  Oh well, I'm there now!  By the time the race started, it was still warm but certainly not as hot as it had been.  There was also a slight breeze, so maybe this wasn't going to be so bad.
After registering at the Village Hall, we all congregated in the car park a few yards down the road and then moved in to the permissive path and did a bit of a warm up along the path going uphill.  When the race started, it was up that path again for the best part of a mile, and then we turned off up as steeper hill where it was more of a clamber.  We cut a corner of the main drag off and then met the original path again.  Continuing uphill, we then turned off onto a more grassy bridleway that took us the the left of Rodney's Pillar and we turned alongside the old quarry eventually gaining the top by the Pillar and the trig point.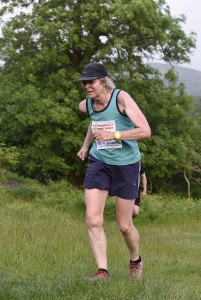 This had been virtually all uphill.  Passing the trig we then started on a steep downhill.  It was grassy to begin with but then became a bit more stoney, some of it loose, so care needed to be taken.  Passing that bit it became grassy and was good downhill running for a while and then, after another very steep bit, back onto the original path that we had gone out on.  Great downhill running and I suddenly caught that lovely smell of honeysuckle that you get on a warm evening.  Brilliant.  The total run was only about 3.4 miles – but it took me over 46 minutes (the winners were a lot quicker though).
After the finish it was all down the road to the pub for chip butties and presentations.  Another good evening running and socialising.  Thanks to Colin Williamson for the photos.