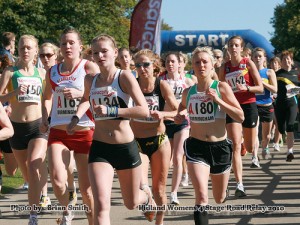 Rachel Ward writes: The relays take place at Sutton Park with the start at 12.00. Most people make their own way there or car share with others, let me know if you need directions or a lift. The train station is only about a 5-10 min walk away so is a good alternative to driving.
You need to be there by 11.15 at the latest and Linda Howell is registering you and organiser on the day. I will more than likely not make it over there, so if you have any problems on Saturday at all, if your late or cant run Linda is the person to contact and she will be making any decisions for us.
Any problems before Saturday, if you need your leg changing or anything at all, then contact me.
Below are the teams that you are in with an approximation of your start time. I have based this on the legs that were run in October for the first team of 18 minutes. Obviously these may vary and change depending upon who you are following and how fast they run.
More details have been sent to your email address so please check there too.
Have a great run!
TEAM 1
| | | |
| --- | --- | --- |
| Leg | Runner | Expected start time |
| 1 | Marianne Hensmann | 12.00 |
| 2 | Susanna Hoburger | 12.18 |
| 3 | Aine Gallagher | 12.36 |
| 4 | Laura Leslie | 12.54 |
| 5 | Cat Ricketts | 1.14 |
| 6 | Linda Howell | 1.32 |
TEAM 2
| | | |
| --- | --- | --- |
| Leg | Runner | Expected start time |
| 1 | Nicola Cumley | 12.00 |
| 2 | Julie Delahaye-Slater | 12.18 |
| 3 | Emily Holden | 12.36 |
| 4 | Lizzy Bryans | 12.54 |
| 5 | Michaela Thompson | 1.14 |
| 6 | Tamara Kennedy | 1.32 |
TEAM 3
| | | |
| --- | --- | --- |
| Leg | Runner | Expected start time |
| 1 | Kathryn Doudican | 12.00 |
| 2 | Kathryn Holliday | 12.18 |
| 3 | Lesley Pymm | 12.36 |
| 4 | Sharon Wheldon | 12.54 |
| 5 | Rachel Ward (hopefully!) | 1.14 |
| 6 | – | 1.32 |