Ladies team manager Rachael Ward reminds us that this years Road Relays will be held on Saturday 19th March at Sutton Park: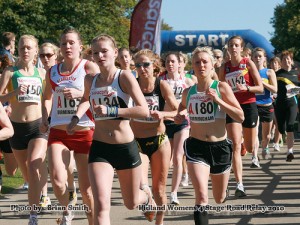 After such a successful cross country season I am really looking forward to the road relays this year. I know how well all of the ladies are running at the minute and am sure that this year will be our best yet!
For those of you who are new to the club, or have not yet joined in the team events, the road relays are the perfect opportunity with a fantastic club atmosphere. The women run in teams of 6 (teams chosen by myself). Each runner runs one leg each which is just under 5k. Its a club subsidised event, which means that you don't have to pay a thing, just turn up and run!
Some of you may have heard rumours about how much fun we have had at the cross country and were tempted but not sure about joining us. The road relays are a perfect place to start in team racing. The ladies teams are all very welcoming and encouraging, whatever your speed. All you need to do is let me know by the 4th March if you want to run. You must be a paid up BVH member and run in a BVH club vest.
As an extra bonus, there are always lots of cakes on offer, home baked by our team members!
Another date for your diary is the National Road Relays 9th April at Sutton Park (closing date TBC).
Email me at rachelnward1984@hotmail.co.uk if you want more information, and to let me know that you want to run. Thank you!