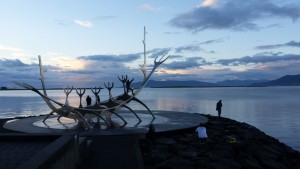 Andy Hoole Reports: A few years ago, before I'd ever contemplated running a marathon, I remember reading one of Mike Scotney's reports where he described the distance as less a race more a journey. This was certainly true in my case, and not just because of the thousand plus mile round trip to get to the start line!
Thanks to the schedule of flights from Birmingham, I had a day either side of the race to relax and explore which allowed me to form three important impressions of the place. Firstly, the obvious – it really is as expensive as people say and not really the place for the budget traveller. Secondly, it's really small. Not particularly surprising considering the population of the whole country is only about 300,000 people but the Race Expo was held in a sports centre out of town that was in reality only a half hour walk. The main central part of the city could be easily walked in about ten minutes. Finally, weather forecasts were essentially meaningless with conditions changing every five minutes from torrential rain to bright sunshine and back again; which made planning for the race slightly difficult.
In the end, the weather had been kind, with no rain, a bit of cloud and (initially at least) little wind. Organisation of the event, from the Expo onwards, was first class and with bag deposited I was soon on the start line ready for the off. The Marathon itself was part of a festival of running that marked the start of Icelandic Culture Night and also comprised a Half Marathon and a 10k later in the day.
The first part of the course took us out of the city centre and into the suburbs, before turning onto the first of many coastal road sections. The support was great with seemingly most of the city cheering us on. Many pans were banged, a man played a tuba and there was much questionable Euro-pop blaring out of various speakers.
I had debated a race strategy for a few weeks prior to the race eventually deciding that, since training had gone so well with several PBs in races leading up to the event, I was in the shape to try and replicate this over the marathon distance. I settled into a rhythm, letting those doing the half marathon pass me, and passed the 10k marker on an industrial estate comfortably in a small group.
As someone expecting a bit of Icelandic scenery, the next section was a bit disappointing as we turned for a several mile stretch up and down a dual carriageway – which was also slightly hillier than advertised. Luckily, after a couple of miles we marathoners were soon directed off (those doing the Half were no doubt a bit miffed that this was all they would see – another mile of road and they would be finishing).
Thankfully, the route started heading through some parks as we followed winding paths and dodged a few cyclists determined not to let a large race spoil their morning ride. I felt good, taking turns at the front of the group like a proper runner, and passed halfway feeling in good shape. As the miles ticked over I just focused on maintaining a steady pace and glancing at my watch at 20 miles began to think that I could make a big dent in my PB.
Sadly, such thoughts only had one inevitable outcome. As we passed out of the parks and back onto a coastal path, I began to struggle and felt the muscles tighten. The woman I was running with dropped me and with a small field thinned out, the next few miles were a lonely slog in every sense. The fact that a bit of wind had kicked up, coupled with the bleak scenery didn't help me – I briefly rallied battling with the next runner I came across but it wasn't to be. As we came back onto the road for the final two miles I knew that I wouldn't be troubling any records but was still determined to finish as strongly as possible.
Support on the last section was undimmed – as sadly was the appalling taste in music. I can think of few, if any, circumstances when I would want to hear "Horny" by Mousse T but whilst slogging the last part of a marathon certainly isn't one of them. Nevertheless, the finish arrived and a big crowd cheered as I finished in 3:06:54 for 51st place.
My post-race recovery was helped by the fact that runners were given free entry to one of Reykjavik's thermal pools which really helped ease the aching muscles. After that, it was off to sample the rest of Culture Night with live bands on most of the streets, exhibitions and a huge firework display to round things off.
So, only two questions remain – would I recommend it and was I pleased? Well, the course itself isn't particularly exciting and although a personal best is possible, the significant sections along the coast mean that if you were unlucky with the weather it could be a bit of a struggle. However, all the activities and the atmosphere around the race were really enjoyable and may be a good excuse for a visit if you've always wanted to go –if your bank balance can afford it.
Was I pleased with my effort? Obviously after all my training I would have liked a faster time, but would I have been more disappointed if I'd played it a bit safer and wondered I could have done more? Definitely. On another day it might have come off but it's best to dare greatly and fall a bit short than never try in the first place. Plus, after a few beers in the evening I'd stopped caring!
Interestingly, after the race I spoke to two sub-three hour marathoners who both gave me entirely contradictory advice on how to improve my times (one of whom utilised a self-developed app for plotting optimal running times and distances). However, both said that they never truly cracked the distance until their 9th attempt. This was only my third, so a good learning experience.
So after a bit of a rest, recovery and a few shorter races I think I'll dust off the training plan and see what attempt number four brings…!