Well done to all who took part in the Yacht Handicap race today.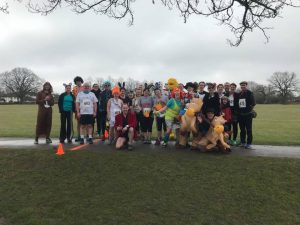 The most accurate individuals were: Stephen Forcer, Paul Samuels, Alison Price, Mathilde Housley, Rachel Hursey and at just 4 seconds off his predicted time, Tony Hall. The wooden spoon goes to Jody Farenden who was 3 minutes and 23 seconds out (thanks to a small detour!)
The prize for best team name went to Miriam Stevens and Kevin Hogan with their Mary Poppins themed: "Supercalifragilistic – WAIT FOR IT – EGGS – pialidocious". In second place with their Fred & Wilma costumes were Simon and Sharon Newman (Run "Newmans" Run) and taking home the main fancy dress prize were Suz and Alan West (the Pests from the Wild Wild Wests).
For accurate team pacing, the spoils went to 3rd placed "Beauty & the Priest" (Clare Mullin and Stephen Forcer) whose joint time was just 23 seconds out; in the silver spot were "Oh, for cooks sake!" AKA Mike Greenhouse and Guy Marston only 1 second behind the overall winners, "The Bournville Bunnies", Rachel Hursey and Mathilde Housely who were 14 seconds off their prediction. Great pacing everyone!
Thanks to Dave Powner for another fantastic club event and to everyone who supported.