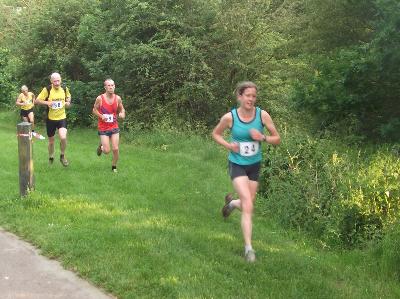 Lesley Pymm reports: I arrived early at the Arrow Valley Country Park for the second in this years Mid-week Series and was a bit worried to find a fair being set up on the field where we normally run across and have a drink station at half way. A little later the organisers turned up and started to work out the detail of how we were going to co-exist with the fair.
The good news was that it was not open and they were co-operative about moving their vehicles for us. There was a bit of change to the course, so the distance may not have been exactly the same as usual, but what the heck! With the mud on this course this was the least of our worries!
Eventually we were off – there were 10 from BvH out this time and I tried to hang on to Mark for as long as I could, but he soon got away and that was the last I saw of them until the end. We did a run through the field with the fair, avoiding cables and other obstacles, then did a loop and came out in the car park before heading down the track and then off road. There are some very muddy uphill sections on this run and I managed to get past a few people who were not in such useful shoes. I really enjoyed it. This is a two lap course and the drink station was now in the car park and then off we went again. The weather had been warm and it cooled down a bit on the second lap, so that was good.
Coming back in to the finish, there is a longish path through some woods and a sharp left turn at the end to take you to the finish. As I ran along the path I could see this mass of teal at the end and hear the rest of the team shouting for me. It was lovely – thank you all. Some of them must have been waiting some time for me to come in and it was great. Sam Chatwin was first BvH in 6th place (49.38) and Linda Howell was first woman overall, in a time of 54.55. She is leading the series at present.
Great event! The next one is at Droitwich and will not be my favourite by any means as it is a road 10k – still it has to be done.
Full results (PDF)