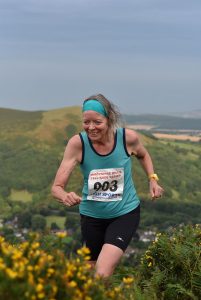 Lesley Pymm reports:  This was the final race in the Shropshire Hills Fell Race Series and we had managed to get into the campsite really close to the Ragleth Inn – last year they were fully booked so we had a very expensive B&B so that we could go walking the next day.  The race starts on the road behind the pub and actually goes out past the campsite, crossing the ford and then though a gate and over a small stream (passing the finish) to begin the climb up Callow Hill. 
I could see them all stretched out ahead of me and (I'm pleased to say) could hear a few behind me!  Many were walking as we climbed the hill for the first time.  Towards the top I could hear the banging of a drum.  I was passed by the first of the junior race, and then he came back down again, as they only run to the top of Callow and back.  Unusually, I didn't see any other juniors, and there were more than one.
Having got to the top I ran down the other side and then got onto a path at the bottom that took me round the contours and then I had to drop down again to Callow Hollow.  It was this downhill that I had to slide down on my backside last year as it was so slippery.  This year was dry and I actually managed to remain upright.  There was a marshal on the hill and he did invite me to some downhill training sessions – but they are a long way from Birmingham – so he gave me a bit of coaching there and then!
At the bottom, it was then alongside the stream for quite a long way.  Although fairly easy running, you have to keep your wits about you as the 'path' is very narrow and it would be easy to slip into the stream.  Somewhere around Sleekstonebank Hollow, I had to cross the stream and then start to climb again.  This is to get back up Callow – but it is steeper than the first time we go up.  The man ahead was on all fours at times!  I was gaining on him, but knew he was better on the downhills than me.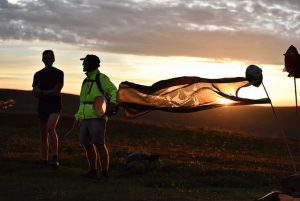 Eventually I could hear the drums again and the ringing of bells.  Gaining the summit, there were flags and the marshal directed me downhill – 'follow the bells'.  It was good running downhill and I finished within the hour – about 7 minutes faster than last year but the conditions were so much better.  Not bad for less than 3 miles!!
It was a great run, great series and now it is not long until the winter series starts again.