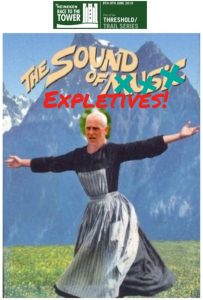 Race to the Tower, a tale of jogging and picnics
Starring: The Three Amigos and the Invisible Woman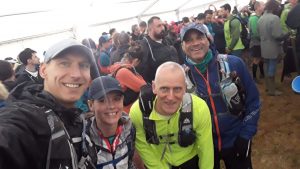 Guy Marston reports: On Saturday 8th June 2019, with persistence, determination and considerable effort… I managed to wake my 24-year-old son at 4:45am to take the Three Amigos; Simon Newman, Antony Stewart and me, to the start line of Race to the Tower (RttT). The conversation on the way was mainly about which shoes to wear due to the changes in the weather, which was another reason for me packing and unpacking my bag at least 14 times the day before. The enormity of the challenge began to sink in as the car struggled in first gear on the last hill on the way to the start (although this could have been the weight of the bagels and porridge consumed by the three passengers). We arrived in good time at a well-organised start point, where our bags were dropped to be transported to the finish line 53 miles away. We found shelter in a marquee as the weather was cold and very wet, and happily bumped into Lorna Al-Ani for the first and last time!
We made our way to the start line and saw another fellow BvHer, Lisa Thompson, who was clearly in her element; smiling, taking pictures and giving us lots of encouragement, far too cheerful for 7:30am as we waited nervously for our race to begin. After a short but informative briefing, explaining the route, terrain and 152 gates and stiles we were about to pass through/over, the gun went and we set off.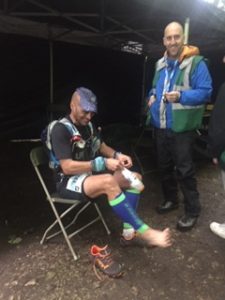 From the outset the scenery was beautiful, and our pace was steady as we queued to go up some steps. We soon started to hit the hills in the forest, but the weather was brightening up so we stopped at the top of the first big hill to take our coats off. After a steep downhill and another long uphill we arrived at the first pitstop; an Aladdin's Cave with a vast array of food and drink, gels and chocolate (I had a Freddo and a Fudge for breakfast!) Antony found a vacant chair to remove a stone from his shoe, instantly a medic appeared to remove it for him. Simon and I stood at a distance giving Antony a bit of stick about his 'luxury pedicure' and asking when the tank of fish would be presented to remove the dead skin.
Off we set again for half a mile, continuing to take the mickey out of Antony, when yes, I had to stop to remove a stone from my shoe, which I managed without a chair, a medic, and no luxury pedicure for me. We pressed on through a golf course where we had no interaction with the golfers, who did not seem impressed by our presence, this was repeated at other golf courses, when otherwise the support from passers by was excellent. Which surprised us, as they are out in beautiful countryside, wearing spikes, but not running – strange! Around here, although my memory is a bit of a blur, I'm sure we passed the famous cheese rolling hill. We then crossed a main road, and, thinking we'd got the measure of the hills we came to the first 'proper' hill. A single muddy track, with a barbed wire fence on one side and a hedge on the other. At the top of which was one of the many stiles, and with our legs burning from the effort of the hill that was a tough one. A few more miles on (around 14 miles) at the next pit-stop it was great to see Paul, who was there to support Suzanne Bunn, and clearly thought we were all crazy; he may be right. We helped ourselves to sandwiches, crisps, coke and gels and had a quick loo stop before Lisa arrived looking as enthusiastic and cheerful as she did at the start; such a strange woman!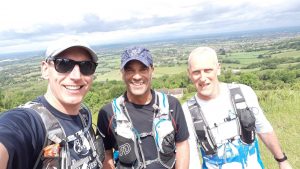 We pushed on, going through forest trails, which were really muddy from all the rain; we had to pick our way through, alternating between steady running and walking, but our feet were soaked. For anyone considering this event, don't worry at all about navigation; the route is really well marked, and there were no points where we didn't feel sure that we were on the right track. Every minute or so there would be a marker, so you would soon know if you had come off course. The next pit-stop arrived at 30km after quite a climb. We refuelled again, and yet again bumped into Lisa. Antony had begun to feel a bit unwell at this point. As at every pit-stop there was an excellent medical section, with tape, talc, vaseline, cold sprays, plasters – you name it, they had it. Simon asked if they happened to have a stick roller to ease off his leg, to which the helpful medical staff said they were sorry, but no… could he maybe use a traffic cone?! His face was a picture, and no, he didn't attempt myofascial release with the use of a traffic cone. As we left the pit-stop we were cheered on our way by a group of disabled children in wheelchairs, I had a moment of reflection on that as it made me consider how fortunate we are to be able to run.
A gentle downhill on roads and then a sharp turn and once again we were back in the hills and off-road running. Around here we ran through a wooded area and hit a seriously steep hill which seemed to go on forever, but the thought of the halfway point coming up was driving us on. Antony told us to push on at this point, agreeing we would meet at the next pit-stop. Coming out of the wooded area we were in the open countryside and we could see tents in the distance and hear the announcer, who was hilarious. A last minute thoughtful gesture from the race organisers meant we had to attempt to climb over a temporary stile with uncooperative legs in full view of all the spectators, with the single marathon finish arch in sight. We 'styled' this out as best we could, especially as we could hear the fabulous Sharon Newman there supporting, waiting for us with bags, that were bigger than her, containing our extra kit. What a star!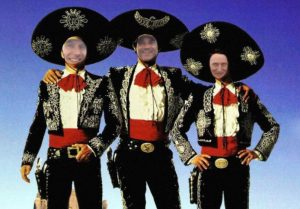 It was the finishing point for the first marathon, but merely a pit-stop for us doing the double. The lunch was disappointing but we only wanted a bit of pasta. At this point we changed socks and freshened up, and attempted to drink hot tea and coffee from a collapsible cup; a skill in itself! Lisa was there again, smiling as she had finished for the day. Antony joined us, and unfortunately he wasn't feeling good, so he made the sensible decision to claim his marathon medal and call it a day. Still a fantastic achievement, and whilst it's always a difficult decision, it's usually the right one to come back stronger on another occasion. So, having been the Three Amigos, we were now christened 'Laurel and Hardy' by Lisa!
We headed out to take on marathon number two! The excitable announcer counted us down: 5… 4… 3… 2… 1… and I made to set off, but realised that Simon wasn't there – I turned around to see him back at the picnic table, gathering supplies for the next section. Eventually we prised him away and the field thinned out as there weren't as many mad enough to do a tough double marathon in one day. We were straight back into the hills and climbed steadily to the top of one, where we were confronted with a large puddle. Fortunately there was also a handy boulder to avoid the puddle. Unfortunately for us, and now famous on the RttT thread, this turned out to actually be a large piece of sponge pretending to be a rock, so our newly clean and dry socks were almost immediately soaked through yet again – oh the joy!
We continued through stunning scenery and arrived at yet another golf course. A golf buggy came speeding past, and I jokingly put my thumb out and said 'you could give us a lift' to zero reaction from the grumpy golfers. We crested the hill and saw the official photographer sitting there and laughed about the potential headline: "Bournville Harriers disqualification for golf buggy caper". Dropping downhill Simon was suffering a bit with his heel, fortunately he never mentioned it (much!) We followed a farm track and at last some flat terrain so we were able to get into a rhythm. Two supporters shouted 'would you like a sweet?' we initially declined until they told us they were Percy Pigs; it's high quality confectionery in the Cotswolds!
Before we knew it we were at checkpoint five at 52km; my personal favourite! Situated in a farmyard, with the usual array of goodies, but this time one of the volunteers was making Marmite sandwiches. I haven't had a Marmite sandwich since I was about 9 years old, but it was just what I wanted at that point. Waiting for Simon to finish another cup of tea, which was becoming standard pit-stop practice, I was just stretching my legs a little and again a medic was there asking if I needed anything. I can't tell you just how fantastic all the medics and crew were at the aid stations, they really couldn't do enough to help.
I'll be honest the rest of the race was a bit of a blur, as we really dug deep with yet another incredibly steep hill. Followed by an incredibly steep downhill, a relief you would think, but our feet were so battered at this stage that we couldn't make much time up on the downhills, nevertheless we ploughed on. The course finally levelled out across a meadow, in the middle of nowhere, and we suddenly heard a cowbell… surely not Bournville Harriers? We pushed on towards the sound and who should we see? The legend that is Barrie Roberts had come all that way to support us! It meant so much to us, and gave us a real boost to see him there. Barrie's support at various events is always a welcome sight but after about 58km of very tough terrain, it was even more appreciated. Thanks Barrie!
Into checkpoint six at 62km it was quieter, but there was another amazing assortment of runner's goodies, and several chairs. We sat down for the first time in hours, for Simon's customary cuppa and cold spray. We refilled our bottles and prepared to push to the penultimate pitstop!
Off we head, up a hill, of course, but it soon changed into some serious downhill running. I imagine that Simon was again struggling with his heel, but of course, he never mentioned it 😉 . As the route flattened, I thought it would be a good idea to tap into Simon's competitive nature; we had been steadily passing our fellow competitors for the second half of the race, I suggested we started gathering scalps as a runner was twenty feet in front of us. This seemed to inspire Simon, particularly when a fellow runner, accidentally I'm sure, shut a gate on him – the indignant look on his face was a picture. I think the exact phrase was – 'get the backpack ready, there's a scalp comin".
We had our first close encounter with the local wildlife as we moved through a field of the biggest cows I had ever seen… it was halfway through the field that we nervously noticed that these cows had no udders, gulp. Our pace increased! Running into the village we saw Sharon for the second time, who provided us with crisps, encouragement and a kiss (for Simon, obvs!) We then rolled into pit-stop seven; five miles to go. Obligatory cup of tea for Simon, gels for me and flat coke, which I really loved. Then we set off for the final push.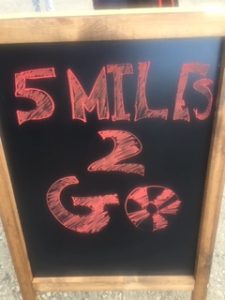 We had a small section of road running, where I was amazed to find my trail shoes were still comfortable and doing the job even after the soggy sponge incident. We ran through Broadway where the pub gardens were full with Saturday evening drinkers, who all stood to cheer us as we passed. My main aim from the start was not to hold anybody up, to enjoy the experience and not to swear… well, two out of three ain't bad! The final five miles started with a few that were mainly flat and on roads, Simon's competitive nature had really kicked in at this stage, and at 49 miles, I had to have a little word as we were at a 9:30 minute mile pace. I can't remember what I said exactly, but I'm sure it was something like: "blimey Simon, we are moving along. How would you feel if we slowed the pace down a little, my friend?" Simon responded with a laugh and pointed out to our right, the Tower, which seemed a million miles away still. We continued on, entertaining ourselves with mathematics, trying to work out if we could finish the race in under 14 hours. This seemed to pass the time, until we came to the final hill… it was a monster! There was no question of running at this stage, not for me anyway. I urged Simon to push on if he was able, but he declined the offer, insiting we finished together. I was running on empty but walked as quickly as I could up the incredible incline. Having watched videos of previous race finishes I was looking for a fence, which I'm sure I told Simon about several times. Before I caught a glimpse of said fence, we heard the amazing sound of a BvH cowbell. Pushing through gate number 152 (all of which had different latches!) the Tower was there, along with Sharon and Barrie, shouting and screaming for us. We ran the last 200 yards up the hill, and rounded the corner to see the finish line in sight. It was at this stage that Simon turned nasty, pushed me over and beat me by one second (not really, not the pushing part anyway 😉 ) . It was finally done, and we had managed to finish in under 14 hours, 13:58:24.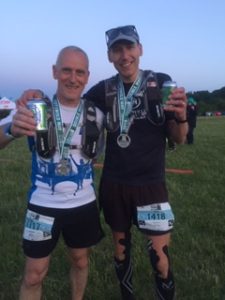 Medals were hung around our necks, and cans of Heineken thrust into our hands. It is, without doubt the toughest thing I have ever done. It is also the most rewarding and the one I'm most proud of. I could not have done it without the amazing support of Simon, Antony and the incredible Lisa Thompson. I'd like to congratulate Lorna, AKA the invisible woman, who finished in seventh (46th overall) with an amazing time of 10:33:35 for the non-stop double marathon, a stunning achievement given the terrain and the elevation (7284 ft of climbing). Other BvHers completing the non-stop double were Ian Mackenzie (just missing the top 100 in 11:40:30) and Suzanne Bunn & Nicki Mann who stuck together the whole way and finished in around 20 hours.
I would thoroughly recommend the race to anybody who really wants a challenge. You need to love hills! The organisation from start to finish, information in emails in the build up, the route, support on the route, pit-stops and crew were all wonderful. One final thing I would like to say, if we are now known as Laurel & Hardy… that's another fine mess you've got me into, Simon!