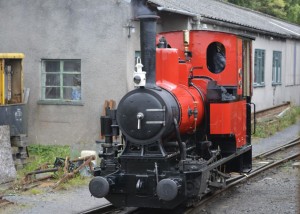 Lesley Pymm reports:  It has been a few years since I last went to Tywyn to take part in the annual event where the preserved steam train takes on runners from all over the country.  There are shorter races in the morning (10k, 5k and children's races) and then the main race is in the afternoon.   Race the Train takes place alongside as far as practicable the route taken by the Talyllyn Railway on its journey to Abergynolwyn and back, a journey of approximately 14 miles. In order to do this the course uses a mixture of public roads, lanes, un-metalled roads, tracks, agricultural land, and rough grazing pastures. The terrain varies all the time and can be very wet & muddy in places, the route also ascends and descends quite steep terrain and runs on narrow footpaths with little chance of overtaking.
I have learned from past experience to get Mike to go on the second train, as I am not likely to see much of the first one.  My mission is to get to a point about 4 miles in, where the race route and the train line converge for the first time, at the same time as the train.  As I was getting closer to that point, I could hear the train whistle blowing and worried that I was not going to make it this year.  Then I realised that I was actually ahead of the train and I was starting to turn away from the line as it came past me.  I could hear Mike shouting me, and gave him as wave as I started to climb back up and away from the line.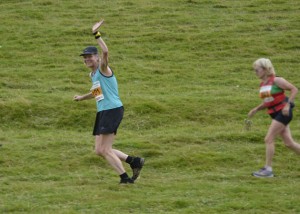 Soon after this I was overtaken by Jack Thomas from Buckley Runners, who sent his best wishes to Barrie!
The first half of the run is easier than the second.  When we get to Abergynolwyn and the turn around point it starts to climb more and the paths are more difficult.  There is a section where we run along a contour around a hill on very narrow paths.  There was a woman in front of me, but she was worried about going over her ankle so she let me pass her.  I had a good run along this section and was not caught by anyone so did not have to worry about finding somewhere to let another runner pass.
Soon after that we ran towards the waterfall and again I saw the train that Mike was on.  I had never got this far before being overtaken by the second train before, so I was pretty 'chuffed'.  There is then a steep climb almost to the top of the waterfall and then we drop down before eventually getting to the bog.  The marshal told us that this was a new bog – and it was certainly longer than the bog usually is.  Much better.  The conditions were pretty dry, so although it had been churned up a bit by all the other runners it could have been a lot worse on a wetter day.
I was feeling so much better than I ever remember feeling on this run.  I never like the last bit where we are back on road for the last mile or so – but even then I was quite happy.  As I got to the finish there were lots of children on both sides of the run-in wanting to high five, so I did a lot of weaving around to get as many of them as possible before finishing.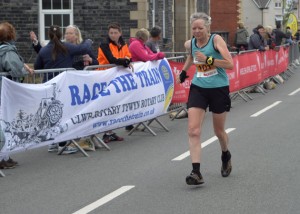 For those who are into these things – there was a good T-shirt, a massive medal and various interesting hits and pieces in the goody bag.  My time was the best I have ever done on the course (clock time 2.41.46 and chip time 2.41.17).  The temperature and the conditions were really good.  I enjoyed it.