Lesley Pymm has been busy running various races lately – here's her round-up: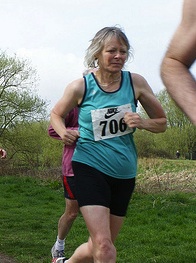 Spring Treble – Milford Common – 21 April 2011: This was the second event in the spring treble and once again it was a very dry run. It seemed really warm as I drove over to Cannock Chase, but before the start it cooled down a lot. The event has a very hard start – long uphill – which takes the runners out to the loop that we run twice. This is not too bad at all, undulating I suppose. Then we come back the same way we went out – although this time it is predominantly downhill. This proved to be a bit of a problem this year as it was quite difficult underfoot for much of it as it was so dry, so marshals were warning us to be careful on the way down. I was slightly slower than last year, but had a good run and enjoyed it. The next event is at Kibblestone and that is the one I find really difficult! Results (PDF)
Wombourne 10/10 – 25 April 2011: This event is a time trial format – so all the competitors wear chips and start off in any order. I always try to get an early start, so that I am not out too long after everyone else gets back. The 10 milers go off first and then the 10ks and it is an out and back course along a disused railway line. There were two others from BvH this year – Nicola and Steve Cumley. They both looked really good as they passed me and I confess to being a bit worried when I saw Steve coming back, but then realised that he must have been doing the 10k and was not really THAT fast! I did this event last year and ended up not being able to walk, so I was really careful with choice of shoes this year (trail) and I enjoyed it so much. Almost flat and out and back is not my preferred type of course, but the sun was shining and the trees kept the worst of it off, so what's to moan about? Lovely run. I was about 9 mins faster than last year (and could walk afterwards, which has to be good). Nicola was second woman and Steve was 4th in the men's race in the 10k, so a good mornings work for BvH.
Haughmond Handicap Chase – 1 May 2011: This is the first time I have done this event and entered pretty much at the last minute. It is a handicap event with the slowest runners going off first. The course started off on a cycle track in the Shrewsbury Sports Village before going out along the route of an old (filled in) canal – so that was pretty flat. It then went uphill into Haughmond Woods and to the top of Haughmond Hill where, if I had time to hang around, there would have been brilliant views over Shropshire and into Wales. It then went downhill, which was a bit difficult, especially as the faster runners were overtaking by this point. Then we retraced the route along the old canal and the cycle path and track. The weather was good, if a little windy. The atmosphere was good and very friendly. Very good facilities at the Sports Village and efficient presentations at the end. A good event which I will do again. I was pleased with my time, but not sure if it was an accurate 9 miles!
Also: Sara Roberts ran 2hours 2 mins 56 seconds in the Edinburgh Kilomathon on Sunday 17th April. Results.