I (Gareth) am writing this report as the ladies team captain (Becky Hampson) was not able to attend and she asked me to take over the team captain responsibilities on the day. To ease the pressure, I enlisted the support of Linda Howell to assist. I was impressed twice by Becky; the first thing was how many teams she got out and secondly, there were several new faces willing to give the relays a go.
Caroline Harlan-Marks led out the A team and ran a time of 16.33 which I believe is a pb for her and she placed the team 14th overall. The second leg was ran by Nicola Sykes in a time of 15.34 which was the 9th fastest leg time for the day and a new BvH club record for the Women's 4 Stage relay, which bought the team up to 5th place.  Out 3rd was Marianne Hensmen who ran a solid time of 18.12. Finally, on the 4th leg was Sarah Roberts who ran a time of 18.15. Overall, the A team ran a total time of 1:08:34 in 15th place which is the highest position for a ladies team on this event.
The B team was lead out by Fiona Blackman who ran solid time of 19:11. On second leg were Laura Gale and I believe it was her first time at this event ran an impressive time of 18:43. The third leg, Laura Leslie ploughed through the field gaining 11 places and matching her PB of 18:09. On the final leg was Julie Delahaye-Slater who ran a time of 18:55 which appears to be a massive PB for her. The B team finished in 30th place in a total time of 1:14:58
The C team was lead out by Lisa Cartwright who ran a solid time of 19:18 given that this was her outing at this event. Then followed Emily Holden on the 2nd leg who ran a PB of 20:17. On 3rd leg was the always enthusiastic Jude Glynn who ran a time of 21.27. The final leg was run by Claire McHugh who I also believe was attending this event for the first time ran a time of 23:52. The C team finished in 56th in a total time of 1:24:54
Finally, the D team was lead out by another first timer, Stacey Marston who ran a time of 22:26. On 2nd leg was another first timer Emma Hopkins and she ran a time of 20:30 for her leg. On 3rd was yet again, another first timer Heaver Cowan who ran a time of 25:54. On the final leg was Lesley Pymm who ran a time of 23.44. The D team finished in 71st place in a total time of 1:32:34
After all the declarations, number distribution etc. duties were done, I felt it was my duty to step back into team captain mode and judge the cakes. The winner was those chocolaty cupcakes with the custardy cream filling, I don't know who made them but they were really good.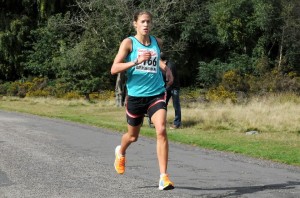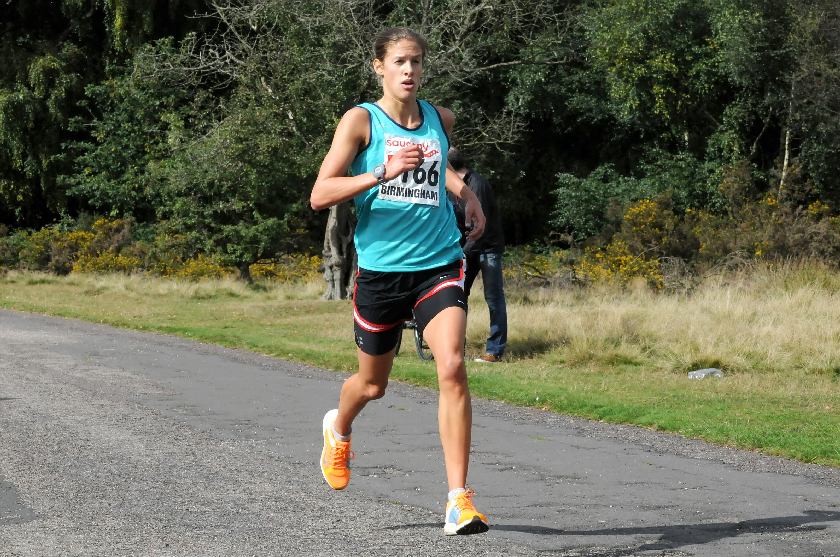 (Race photos by Bryan Dale).
Womens results – Total of 74 complete teams competing, full results here.
15 Bournville Harriers 'A' 1:08:34
1 Caroline Harlan-Marks (14) 16:33
2 Nicola Sykes (5) 15:34
3 Marianne Hensman (10) 18:12
4 Sara Roberts (15) 18:15
31 Bournville Harriers 'B' 1:14:58
1 Fiona Heath-Brown (52) 19:11
2 Laura Gale (44) 18:43
3 Laura Leslie (33) 18:09
4 Julie Delahaye-Slater (31) 18:55
57 Bournville Harriers 'C' 1:24:54
1 Lisa Cartwright (53) 19:18
2 Emily Holden (49) 20:17
3 Jude Glynn (53) 21:27
4 Claire McHugh (57) 23:52
72 Bournville Harriers 'D' 1:32:34
1 Stacey Marston (82) 22:26
2 Emma Hopkins (70) 20:30
3 Heather Cowan (72) 25:54
4 Lesley Pymm (72) 23:44