Suz West reports: I wasnt going to write a race report about the race for life Cofton 9th sept simply as I didn't think it was a race where a report would be taken seriously. However, after being encouraged by some other bvh to write one I'm going to give it a go!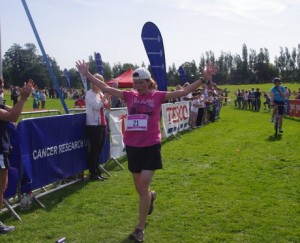 I entered this race way back at the beginning of the year,the reason for this was this was my first run of 5k I had ever done in 2011 with the person I was running for cheering me on and then some familiar faces around the course from my gym, I came in 10th was exhausted but quite surprised how many people said to me I didnt know you did running!
People kept saying I should take it up and I gave it go and caught the running bug, so a year and a few months later I find my self at my second race for life.
I arrived at 10.15 suprisingly it was quite easy to park,there was a DJ from Heart FM playing some decent tunes to get us going, also someone telling us where the money raised goes. Also there was an ample row of toilets, so hardly any queue. There were a few stalls and a burger bar were I was surprised to see a few people tucking into big burgers before running, I hope they made it round without feeling ill!!
There was an array of pink, with some moving tributes on people's backs, plus some dogs with pink bows who were going to take on cofton. Very cute. This was a celebration and I was happy to be part of it even if part of my celebration was this is the place I first discovered a love of running and wanted to come back just as a thank you.
It was about 10.40 when the DJ moved us into do a warm up aerobics. Okay I admit it I'm not good at this I have no coordination so my warm up was more messing about and jumping up and down for 15 mins.
We then followed the flags walker or runner obviously I opted for runner It was a bit of a squeeze at the front so I was a few rows back to start, then we were off the race started quite flat but soon got hillier where my brain went from this is a bit of fun to right then this is a race. I started to overtake people on the left who were struggling thinking to myself that was probably me last year!!
I managed to get into third position as the course evened out the lady in second suddenly stopped so I went past her, the course now was really following the bvh tour I did in the summer I knew we were coming to another hill so I thought I would just pace it out as hills really are not my strong point. After that the course started to even out again I had the first runner in my sights and knew I could pass, we spoke briefly to each other but I decided as nice as it would be I didn't want to run and have a chat I wanted to actually win now it was possible.
I overtook on the flat it was a nice stretch and I just couldn't help but run as fast as I could, then downhill started well for a bit, luckily by this point some crowds were emerging and I was getting cheered which was helping, I just let myself go for it downhill I'm normally as bad running down as up over-cautious but not today.
Then following the bike I was into the last 1k I could see where this was going, a nice hill to take you to the last 500 metres, just when I was tiring and knew I couldn't get caught the urge to slow was there then all of a sudden I could hear the DJ giving a blow-by-blow account of the leading lady (me).
I knew I had to keep going strong now. The hill, and for me the hardest part, was over and the guy leading me round on the bike said something I think he asked if I was sprinting in, well as he asked and now with a crowd cheering me on a DJ giving a commentary and me getting totally caught up in the moment I went for it a sprint finish from me!!
Those of you who know me will know I don't do this usually. I'm not sure where the energy came from. I ran through the finish 1st, the DJ followed but I could just about say my name. I did not stop my watch until after she spoke and when I looked my time was 22.43. My husband was there supporting me and he knew I wanted to know my official time on the clock so he made sure I knew, plus the DJ did say 22.01. Now I'm pretty sure that is not official 5k but its fast for me, the day before I did oarkrun in 23.23 so I knew I'm getting a bit faster but I'm still amazed at this time and at finishing first.
The goody bag was some chicken breadcrumbs, toiletries, medal and water. So I have written this report as I was one of them I'm not a real runner even though anyone who runs is a real runner, I've been running just over a year and Race For Life my second year and yet again inspired and motivated me, well if it wasnt for this race last year I would never be a bvh to whom I have to thank as without joining a club I doubt my running would have improved that much and my passion for running may not exist thanks bvh 🙂