Lesley Pymm reports:  This is a race that I had been looking forward to running for some time.  It takes place close to Pontypool, so we made a weekend of it and ran Cwmbran parkrun the day before.  That was done on the winter course as there was so much water everywhere. For the first time, there were to be two distances at this event – the Full Ponty (11 miles) and the Partial Plod (7ish miles).  As we were meeting up with family in the afternoon, I decided that it would be best to do the shorter distance.
The event started at Llandegfedd Reservoir – where Mike used to camp as a Scout before they flooded it!  We were based in the Boathouse.  The two races started together and did the same course for about 3.5 miles before the split.  It was very soon into the run that I decided that I had certainly made the right decision.  We started on road and were soon climbing steeply uphill and past HMP Prescoed.  There were some fields to cross (with stiles) and then onto a very muddy lane.  When I got to the end of that, the marshal commented that he had been around that area for years and had never seen it so muddy.  I was aware that there were only a couple of people behind me, and was not sure which event they were doing.  After a while, I could not even hear them.  The lane was not too bad, but I was taking it carefully as I could not tell what was mud and what was hidden rocks.  I did not want to trip.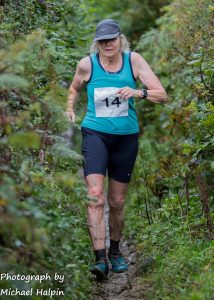 I was aware of a trio of runners ahead, they kept getting away on road sections and I was gaining on the off-road parts.  I turned into a gully that we had been warned about.  This was over a mile long, it had been cleared as much as possible, but was currently like a stream and was flowing quickly.  It was effectively like running up a stream for a mile.  It was not too bad going, but I was knee deep at times.  It did wash the mud off my shoes anyway.  Eventually I emerged at the end and was on tracks for a while before reaching the split point and grabbing a drink.
The people doing the longer route had gone off and done a loop from here and the faster runners were already coming through.  Fortunatley there were few really narrow bits and I was able to make room for them as necessary.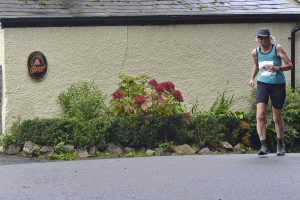 There was one bit which went through a wood and a very steep downhill, with steps.  I was passed a couple of times here and managed to give them space.  After that it was OK.  We went through some of the land belonging to HMP Prescoed.  Another very muddy and wet field that really just sapped your energy – it wasn't a very steep climb, but we all found it very hard going.  Another field with stiles!  Then it was out on the road for the final mile or so.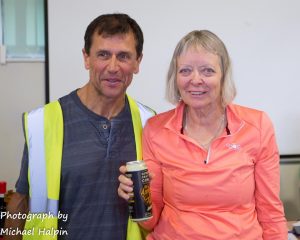 The atmosphere here was lovely and everyone was so supportive.  It was a relatively inexpensive race to enter (I think it was about £12) and half of the entry went to Velindre Cancer Hospital in Cardiff.  All those who completed received a vest and water.  There were cakes and hot drinks at the Boathouse for a donation which also went to the charity.  There was a shower and prizes.  I got 2nd in my category (which is unusual, they usually only go to the first in categories).  This was a can of cask ale.  The first in category had a bottle of wine.  There were plaques for the winners as well as wine/beer.
It was a very well organised run, good value for money and I would certainly do it again.  Loved it.