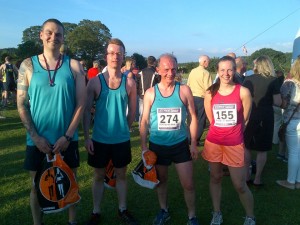 A scorcher of an evening did not stop 275 keen runners turning up for the awesome Blakedown Bolt this year. This hilly, multi-terrain race is always a fantastic event that has a great atmosphere, fantastic scenery, some very good runners, beer, food and a bouncy castle!
Andy Hoole, Lisa Cartwright, Kevin Peace and myself represented BvH on the day (thanks to Gary Hawkesford for giving me his number), with great support from Laura Leslie, who gave us the cheer we needed in the home straight.
The course is 10k that has it all: a grassy field to start and end on, farmland, single file trails, stiles, country lanes and some truly brutal hills!
Andy and myself agreed that we would get off to a good start, as we were both aware that there was a bottle neck early on in the race, which you really don't want to get caught up in, especially as you go over your first stile. We kept the momentum going from that point on and really kept each other going, with Andy keeping me safely behind him!
The heat was tough and some of the hills were so dry that it was like running on sand, but you can't help enjoying this race, no matter how tough it gets. The views are just amazing from start to finish, especially when the weather is good. There are some amazing trails through wooded areas at the halfway stage and I actually started to enjoy myself, especially as I had chosen to leave my Garmin at home and concentrate on enjoying the race and just running hard.
With a couple of miles to go you have to run through a stream, followed by the hill that never ends, but this is where training on Cofton park really helps and Andy and me managed to take a few more people as we started to get towards the end of the race.
With about 500 metres to go I pushed hard to try and catch Andy, but he was a bit too far ahead and put in a good effort at the end himself. I did get caught up in a sprint finish with another guy, who left me for dust and almost caught Andy, who had been quite far ahead of him before he put the effort in.
The times are pretty meaningless on these types of courses, but I was pleased to have run exactly 6 minutes faster than when I ran it in 2011. The other BvHers were also very pleased with their times and positions:
Andy came in 17th place, I was 19th, Lisa was 80th (9th female) and Kevin was 153rd.
Great performances from everyone at a great race!
| | | | | |
| --- | --- | --- | --- | --- |
| Place | Time | Name | Team | Race Age Category |
| 17 | 00:44:12 | HOOLE, Andrew | Bournville Harriers | Senior Male |
| 19 | 00:44:20 | GORMAN, Paul | Bournville Harriers | Male 35 |
| 80 | 00:51:49 | CARTWRIGHT, Lisa | Bournville Harriers | Senior Ladies |
| 153 | 00:59:46 | PEACE, Kevin | Bournville Harriers | Male Vet 50 |
MORE PHOTOS HERE.