Lesley Pymm reports:  This is one of those races that I had heard good reports about over the years and, for various reasons, had not done it.  I was told that this was to be the final running of it, so thought I had better get on and do it.  I was looking forward to it as I had been told that it was a lovely course in a very pretty village fairly close to Wolverhampton.
It started well – I received an email telling me that I was allocated to Car Park B – so all looked really well organised.  We turned up at the car park and there was a marshal at the end of the drive who looked asleep.  Other runners directed me where I was supposed to go.  I changed my shoes at the car and we went off to pick up my number.  They had warned that it could take 20 minutes to get from parking to the start, and I couldn't really see why as the village didn't seem that big.  Anyway, I soon found out.
I got to the Village Hall and there was a queue outside – I was told it was the queue to collect numbers.  I joined this and eventually got my number, then found that I had to go back outside and join another queue to pick up my chip.  Then (of course) another queue for the toilets!  There was a gantry for the finish – which had start written on the other side, so I assumed that this was also the start.  No, of course not, we had to walk through a couple of fields to get there!
I followed other runners to the start – I didn't see any directions or anything.  There was someone making announcements over a loudspeaker, but I couldn't hear anything as the speakers were not positioned very well.  I got to the start and hung around for a while.  I don't think there was a briefing – there may have been , but I didn't hear it.  Suddenly there was a horn sounding and we were off!
We ran down the field and there was a large puddle and so many people came to a stop and went round it.  I ran through and got to the corner of the field and out onto a track.  Running along the track we came to the 10K/5K split – but the 5K started fifteen minutes after the 10K, so I was surprised to see a 5K runner going along his route.  He can't have read the information that was sent out and did not realise that there were two different starts.  Marshals were frantically radioing through to HQ to let them know.
We ran along the track and then onto a loop that was quite scenic.  There was a bit of a climb and then a downhill, but along a ridge and there were some lovely views there.  Eventually we ran on a very slippery downhill and I was having problems getting  past runners who were wearing road shoes.  Over the final kilometer or so, I could hear the Bells of Pattingham ringing. which was lovely.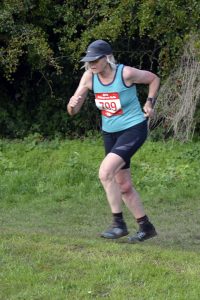 Coming in to the finish there was a bit of an upward slope and then into the funnel.  Again, it was a shame that the speakers were where they were as they were calling runners names out, but they could not hear them and respond.
We were given tea or coffee and a bit of Harvest Cake as well as a horse brass celebrating the 30th running of this event.
Much of the run took part on private Crown Land which is apparently up for sale, so there may be the possibility that they will be able to do another course similar to this.  Until then – the run is no more.  I know I sound quite negative – but for a run that has been going for 30 years and that has such a positive following, I was surprised that it was not better organised.  I would run it again if there was nothing else on that day, but would not prioritise it!  Most of the money went to charity which was really good.