Stacey Marston reports (somewhat belatedly, although it was written at the time; I have left it as it stands and various details, numbers of parkruns completed etc. have subsequently changed): Just before my 39th birthday I came up with a list of challenges to aim to complete before my 40th in a few weeks' time. One that I was determined to complete was the (admittedly slightly bonkers) parkrun Alphabet Challenge. I'd been working my way through the available letters of the alphabet; there's still no X in parkrun world, and had a handful to do. I knew that Lesley Pymm and Clare Mullin were also working their way towards the Alphabet too and we discussed a trip to Poland for one of the available Z's to complete our list. 
Over the course of the last 12 months I've added an M in Paris (Montsouris), O in Oxford and U in Upton Court. I and J were looking to be tricky letters to get, with a flight to Jersey and a long trip to Ipswich or Inverness looking likely until two new parkruns cropped up and helped with both the carbon footprint and the airfare (Isabel Trail in Staffordshire and Jersey Farm near St Albans). parkrun Tourism occasionally gets a bad name on account of both the cost and carbon footprint; but if you enjoy travel and you're therefore likely to be travelling in the UK and beyond anyway, then there's definitely worse ways to spend your tourist pounds (or euro or Zloty etc). The beauty of some of these random challenges (many of which are on the Running Challenges Chrome or Firefox extension) is that they can take you to places you might never ordinarily visit and introduce you to people that you wouldn't otherwise have met. Until recently the majority of my 60-odd different events was haphazard when I happened to be in a place where there was a parkrun, but it's become more planned lately and travelling to Zielona Góra was without question 'all about the parkrun' and specifically the letter 'Z'.
We used the experience of other Alphabeteers on the UK parkrun Tourists group to help us with planning our visit. The various parkrun groups on Facebook can get a bit fractious but the Tourists' group is one of the better ones; as you would expect with any special interest group there is occasional heated debate but it's mostly good natured and the moderators are good at reminding those who take it all too seriously to either pipe down or leave. To join the group you have to have run at 20 different 5k parkruns. 
Flights and hotel booked, the weekend eventually rolled around. Lesley, Guy and I were all flying from Stansted to Poznań on Friday (parkrun eve) and Clare was on an earlier flight from East Midlands to Wrocław. The three of us travelling to Poznań had the more 'eventful' of the journeys; the first incident occurring as we waited for the bus from the airport to the train station. There were already people with cases getting on to what looked like a minibus, but none of us questioned whether it was the right bus as only one service was advertised at that stop. We loaded our cases and got on. Just as the bus was pulling away a British chap stood up and started calling a register. Lesley, Guy and I exchanged worried glances and Lesley said 'I don't think we're on the right bus!' There was much laughter at this point… to which Lesley said 'I'm not joking!' The reply 'aren't you coming to the wedding?' came back and a series of pennies dropped as we realised that this was a minibus taking guests to a wedding; many of whom hadn't met before, hence why we'd been able to get on board without anyone realising we weren't invited guests! The driver, who didn't speak a word of English, had to be persuaded to let us (and our cases) off the bus. Thank goodness we realised in time; we met the wedding party again at the airport on our return journey and they told us the venue was in the middle of nowhere; had we got there we may well have been stuck (although they did say that there was a lot of vodka at the wedding so perhaps we'd have been alright!)
We eventually made it to the main station in good time for our train to ZG and breathed a sigh of relief as we waited at what we thought was the right platform, platform 4, sector A… and we waited. About 10 minutes before departure time we began to wonder if we were in the right place. I asked someone and they pointed to another platform – 4a! We raced across the platform to a train that was absolutely full to capacity, but somehow squeezed our way on into the cycle and luggage carriage, wary of a long wait for the next train. Without a seat we convinced ourselves that as the train stopped frequently we may not have to stand for the whole journey of nearly two hours. It wasn't to be, (although Lesley was offered a seat, I'm not sure she could have gotten through to the other carriage without crowd-surfing!)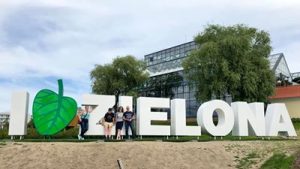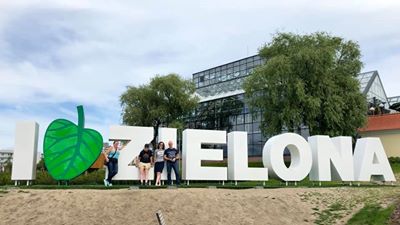 We passed the time chatting parkrun and beginning to turn our thoughts to an ice cold beer and some food; the train was warm and it had been a long day. Looking out the window we started to see some of the beauty of Poland, through fields and forests until the time came when we were due into ZG and I looked out the window to see 'Zielona Góra' (well what I actually saw was Zielona Góra Przylep' but I didn't register the additional word). We were so happy to have finally arrived that we could almost taste the beer! I exchanged a quick message with Clare who was researching the food and drink options and put the hotel address into google maps for the 20 minute walk there and it came up '1 hour 43 minutes walk'… I had a sinking feeling and realisation that this was a much smaller station than I'd anticipated; we'd got off a stop too soon! I explained what we'd done to someone who fortunately spoke some English, and she explained that the train was the last of the night, but that we could get a bus from a stop about 1.5km away… she thought we'd maybe have 40 minutes wait. I'm so happy that Lesley is very calm in a crisis and a natural born traveller, as I felt terrible about the mistake, as we made our way to the bus stop there was no hint of a panic or the disappointment that the food and drink would have to wait a while. At the bus stop we tried to decipher the timetable when a car pulled up… a lady from the station was in the passenger seat; the English-speaking lady who had directed us to the bus stop had told her what we'd done and when her boyfriend picked her up at the station she'd told him and they insisted on driving us to the hotel in ZG. It was actually a really moving experience as we really experienced the first signs of the friendly Polish hospitality that were evident throughout the rest of the trip. We finally met up with Clare and headed out for a couple of beers and a pizza (not Polish, but needs must!)
Saturday was, of course, parkrunday and there the 'run report' should really begin! We made our way to the parkrun, following a combination of Lesley's printed instructions, Google maps and hints we'd picked up from the tourists group, but it was not an easy one to find! With about 10 minutes to spare and some slightly worried jogging (although Clare was never in any doubt we would make it) we saw a lady in running gear who laughingly said to us 'there's plenty of time'.
The parkrun itself began in the forest in a small clearing. The weather was getting warm for running but the setting was beautiful as the sun was just about coming in through the trees. We later found out from Jane and John, the other Brits at the parkrun, that the RD had noted our arrival with the words 'more English!' as he recognised our Cow Cowls (the cow print buffs that members of the UK parkrun tourists wear in honour of Chris and Linda Cowell who were the first parkrunners to do 100 different events). 
After some photos and a briefing in English and Polish the parkrun set off on the first of two laps. There were a few tree roots but mostly it was soft and spongy underfoot. The heat really slowed me down but I had the first woman in my sights just ahead (who we had chatted to on our arrival). There was an initial out-and-back section which was an opportunity to see Guy ahead with the leaders and after the turnaround to see Clare running well as third woman. After running around a cone (no marshal!) we then turned onto the loop and around this point there was a very sandy patch where it was quite difficult to get your footing. Although the course wasn't marshalled it was well marked and you didn't ever feel too far from the next person. We turned back to the start-finish area for the halfway point, and back around the loop. I was never quite able to make up any ground on the woman ahead and sensed she could easily push on, which she did in the final stretch. She gave me a high five and a massive grin at the end though and I later saw she had got a PB so perhaps my presence helped to spur her on!
As a smaller parkrun, all of us enjoyed the opportunity to place a little higher than usual (Clare and I in the top 3, Guy in the top 5 and Lesley topping her Age Category) but it wasn't really about the performances on this occasion, much more the camaraderie (and of course, completing a challenge!)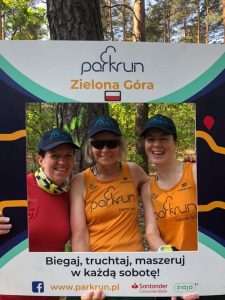 There wasn't a dedicated cafe for after the parkrun but we had a few more photos and, because three of us (plus Jane and John) were in the same hotel, which boasted a '100 item breakfast' we headed back for said breakfast and much needed coffees before continuing our adventures in Poland. The town of ZG isn't a particularly touristy one, certainly not one that many Brits would have visited (with the exception of parkrun tourists) but, with a couple of good quality restaurants and a favourable exchange-rate, some nice parks and more of the forest to explore, it gave us plenty to do for a weekend. The museum had some, erm…. interesting exhibits, especially the section dedicated to the area's wine producing history and (somewhat less understandably) the Medieval torture section/dungeon. We learnt that historically there were various inventive ways that 'quarrelsome women' would be punished and Guy managed not to make (or perhaps thought better of making) any obvious jokes at mine, Clare and Lesley's expense!
In the course of the Alphabet Challenge I'm sure that the three of us have all been to places that we wouldn't otherwise have experienced, and met many fascinating people along the way. I can definitely recommend taking your parkrunning further afield when you're travelling, the community is friendly wherever you go. Whilst the basics of a free, weekly, timed run are consistent; there's something unique and special about every parkrun. Congrats to Clare and Lesley on completing the challenge and here's to many more adventures!