Since I started taking my running vaguely seriously a couple of years ago, I have developed the view that, although Marathons aren't necessarily the ultimate in athletics challenges, they are at least something that every runner should attempt at least once in their life. I think Mo Farah has similar thoughts on the matter…
I did try to prepare for the Worcester Marathon 18 months back, but sadly got struck down by a nasty virus the week before. Given that there were, apparently, gale force winds on the day, I'm not sure that the virus wasn't a preferable outcome to the race itself. Since then, I've concentrated on shorter distances, while gradually increasing my mileage. A part of me did wonder whether I was physiologically cut out for the long winter runs required for a spring Marathon.
Back around the time of this year's VLM, however, I started to think that I ought to take the plunge and concluded that running long over the summer months would be a far more enjoyable way to prepare for a Marathon. After scanning the racing calendar for a few weeks, I decided that the Chester Marathon at the start of October might be as good a place to give it a go as any.
My preparation was pretty good. I managed to remain injury and illness free despite training hard and racing frequently over the summer. My only really concern was that I didn't really put in enough 20+ mile runs and that, when I did, my body really didn't thank me for it.  Some weeks before the race, I decided that this would probably be the one and only time I put myself through torture of this kind. This increased my resolve to ensure that I came in under 3 hours.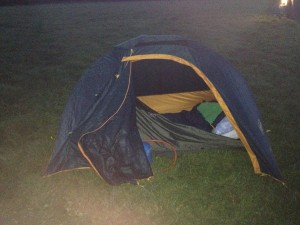 For a variety of reasons (mainly financial), I had originally thought that I would drive up on the morning. However, with the race scheduled to start at 9, I was a bit anxious that factors beyond my control might sabotage my journey and, taking into account all of the lovely weather we had been having, decided to take my tent up the night before and camp just outside of Chester.
After feasting on a 2 person 3 course meal at Pizza Express (actually, I cheated, saving my spare pizza for the journey back the following day) I headed back to base camp. The night was a little colder than I had anticipated, but I was well wrapped up and got a good night's sleep. To be honest, if I'd been in a hotel or at home, I think I would have been fretting so much about the race that I would never have got to sleep, so I didn't feel I'd made too daft a decision.
I set my alarm clock for just before 6 to enable me to fuel up in good time. As soon as I woke up, though, I realised that the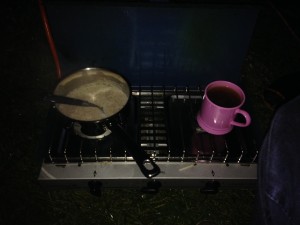 only things I had forgotten to bring with me were matches…and it's hard to cook up a good bowl of porridge without a flame. Thankfully, there was an all night garage 10 minutes away and my pre-race plans weren't completely scuppered and I managed to get a decent breakfast in by 6.30.
At around half 7 I set off towards the the racecourse with Radio 6 for company. The DJ's choice of songs on the short journey was eerily prescient, with Johnny Cash's 'Hurt' followed by 'Honeyblood' by Choker ("what doesn't kill you makes you stronger")!
I had about an hour to prepare when I finally parked up, which was just about perfect. I sorted out my drinks and gels, went for a bit of a wander and bumped into Katie Thomas, and most importantly, made very good use of the toilet facilities…
Come starting time, I positioned myself close to the 3 hour pacer. I had aspirations of going sub-2.58 if everything went to plan, but my primary goal was to get under the magic 3 mark. Although this was to be my first attempt at 26.2 miles, I had spoken to a lot of more experienced Marathon runners in the club like Richard, John, Nicola and Sean, and done a lot of reading around the subject. This research had taught me that my primary objective over the first few miles should be to not get carried away and to accept that a slow first mile would be infinitely more rewarding come the latter stages of the race than a fast one.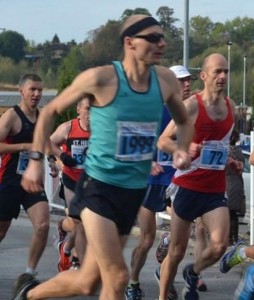 I was happy, therefore, to start off gently and to allow other to overtake me as we went round the racecourse and headed out into the streets of Chester. My Garmin chimed at the precise moment I went past the first mile marker and I was pretty pleased with myself that it showed I had done it in 6.48; this was pretty much the perfect beginning in the context of my overall race strategy.
After a couple of miles, we started to head out into the picturesque Cheshire countryside and I was able to appreciate why this event had developed such a great reputation among runners, even though it was only in its 5th year. Conditions were pretty much perfect: cool without quite being cold (and with the promise of slightly warmer weather as the sun made more of an appearance over the morning) and almost no wind. Given how lousy Saturday morning had been, we really were very fortunate.
I felt very comfortable over the first 7 or so miles, maintaining a pace that was around 30 seconds a mile slower than I had run in my most recent half, a month before. Each mile was between 6.40 and 6.48, so I was very happy with my consistency. As is usually the case in races of this size, I found myself loosely running with a group, however, I was determined to run my own race and not worry too much about what others were doing.
At around the 7 mile mark, a couple of people in the group seemed to go on a bit of a surge, but I decided that it was too risky to try and stick with them so ran alone for a little while. A mile or so later, however, I could sense a big group closing in on me and became a bit concerned that I might have been starting to drift. I therefore dug in a bit and did a couple of quicker miles in order to stay with them.
Interestingly, by the half way point, this new group had actually caught the previous group and I maintained my speed as we crossed the border into Wales and began the second half of the race. A downhill section around 14/15 miles enabled me to run a couple of quicker miles and when I looked at my average pace at that point, I started to wonder whether I might be able to get close to 2.56.
I briefly ran and chatted with Simon Martin from Cobra, who had come 2nd in the JW Ultra a few weeks previously. The ease with which he went past me and others suggested that he was no novice to this long distance running lark. However, over miles 15-20 I maintained a good pace and gradually moved forward in the field ( I was 94th at the half way timer and 78th at 30k).
When I saw that I had done my 20th mile in 6.42, my hopes of exceeding my initial expectations were high, but I hadn't forgotten the old adage that the 2nd half of a Marathon only really begins at the 20 mile mark…and so it proved for me.
I had been carrying my diluted caffeinated gels around with me in a small bottle and taking a slurp every 3 miles in the early stages and then a bit more frequently as the race went on, so I was confident that I was as well fuelled as I could have been, but once I went into the last 6 miles, I was pretty much in unchartered territory.
Pretty much as soon as mile 21 began, I could feel my legs start to stiffen and what had, until recently, been very comfortable, became somewhat attritional. My 21st mile was 24 seconds slower than my 20th and I quickly realised that I was in a battle to finish under 3 hours. The next few miles were very tough as I fought to keep my head, legs, bladder and guts together. I seemed to be running twice as hard as I had been over the 3rd 10k, but at a pace that was considerably slower. Fortunately, however, I was able to hold on to miles that were averaging out at 7.00, so it was not calamitous.
Although I was slowing, I don't think I was alone and I was caught by very few people in the closing miles. A couple of notable exceptions were a guy from Sandwell Valley RC, who seemed to literally sprint past me to finish in just over 2.55 (I looked him up later on Power of 10 and saw that he ran his first Marathon in New York 4 years ago in 4.28!) and a woman dressed in a garish neon pink one piece who overtook me with similar disdain as we headed back into the City.
The final mile or so would have been enjoyable had I not been in such a delirious state, with spectators lining the streets and the river bank that led back to the racecourse. I was given an encouraging cheer by someone who recognised my teal vest (I'm pretty sure it was former Rowheath member and Sparkhill Harrier, Gary Mason, but it could just as easily have been Daniel Craig, for all I was capable of discerning at that point.
Eventually, I came back onto the racecourse and, although I was not able to chase anyone down, managed to pull together something resembling a sprint finish. I was spurred on by the clock at the end, which was ticking tantalisingly towards 2.58 as I crossed the line. My chip time was 2.57.53 and I finished in 77th place out of just under 2,500 competitors, a result I was pretty delighted with on every level.
In my disorientated post-race condition, I bumped into Katie's parents, who also recognised my vest; they enquired if I was 'Chris', which might have perplexed me had I had the capacity to be perplexed at that moment (H-M? Collins? Tarren? The audacity…). Anyway, they were a little concerned about Katie, because she had, unfortunately (though no doubt sensibly), had to pull out around the 8 mile mark, which must have been hugely disappointing for her. On the positive front, however, Nicola Morris ran a perfect and incredibly evenly paced 3.57.46, moving up around 400 places in the second half of the race.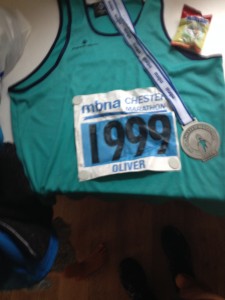 Will I try another Marathon? I'm not sure. I think I prefer shorter distances and know that I would have to put in a great deal of work to go quicker. That said, I now have a Good for Age time, which might tempt me to try to get a place at London in 2016. For now, I'm just looking forward to the challenges the Cross Country season will bring and the battle to stay in Division 1!