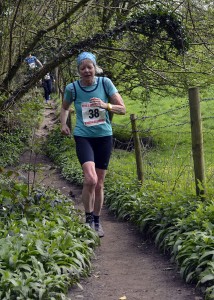 Lesley Pymm reports:  Another race that I had never done before and was looking forward to.  Offa's 'Orror is about 20k of multi-terrain running on and around Offa's Dyke.  We had made a weekend of it and done a bit of walking the day before.  As it turned out I had already walked part of the race route, but had not had a course map so was not aware of this. 
When I got to the race HQ, one of the first people I saw was Kevin Peace who had also not run this event before.  The start and car parking were some distance away from the hall where the numbers were issued, so everyone got a bit of a warm up just going up and down the hill.  They said it was 200 meters between the hall and the field where the cars were.  I hoped that the 20k wasn't on the same scale as that, as I'm sure it was far more than 200m!
We hung around at the start and it was a bit late starting – which was annoying as they didn't tell us what was happening.  It turned out there had been a problem on the course and they did not start until it was sorted.  Fair enough – but it would have helped if they had informed us.  Anyway, soon we were off and it was a slow start as we jostled for position on a narrow, stoney, uphill track.
There was a bit of up and down and then we were going through some woods which were lovely.  Eventually we got down to the River Wye and were running alongside it.  This started off OK, but did get a bit boring as it was a long stretch on the river bank.  I met a woman along here who had done the JW Ultra a couple of times.  Eventually we got back to the village of Brockweir where we had started and cutting up behind the pub we started to climb again onto Offa's Dyke.  It was a relief from the river bank but a very steep climb.  At this point I was passed by one of the faster men who was coming in to finish.  I could hear them clapping the winners in as I slogged up this hill, knowing I was only about 1/2 way!
I reached some steps and my language was not good as I grabbed the handrail and tried to hurl myself up onto  the steps.  At the top there was a marshal who saw that I was from BvH and asked if I was Lesley.  She said that Mike had been along there and that he had said I would hate those steps!  A little further along and there was Mike taking photos.
I passed him and carried on along this path and then eventually went up what the marshals said was the last hill for a while.  I then turned onto another boring bit.  l was running along other flattish path along side the river.  I thought it was never going to end!  Eventually I could see Tintern Abbey and I knew I was going to start climbing again soon.
This was familiar ground from the day before and I knew that I was heading towards the end.  This path had a bit of mud and I was enjoying it.  Then it was back to Brockweir and that track that I had already done once.  It was a long slog again, but I knew it was getting near the finish.  I passed a marshal at the top who told me it was only 300m downhill and a sneaky uphill at the end, and then the cakes awaited.  It was exactly as he said and then there was the finish which was earlier than I expected and came as a bit of a surprise.
The cakes were great, coffee out of the event memento mug and I saw Kevin who had also enjoyed it and found the flat bits a bit boring!  Certainly worth doing again.