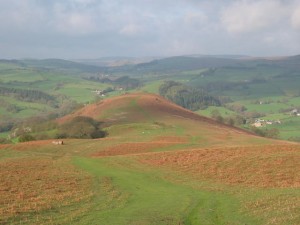 Lesley Pymm reports: I am so pleased to be able to report that I finished this race this year.  It is one that I had done in the past, and then it stopped in 2002 owing to foot and mouth (I had entered) and the organiser couldn't get the team together again to it was cancelled after that.  Tempo events brought it back again last year at the later date of August Bank Holiday when the weather was terrible and I was 'timed out' at what they called 10 miles (actually nearer to 11 miles).  I really wanted to complete this year, but wasn't going to wreck myself trying.  The weather was better, I had used the coach to get to the start (last year I was on the coach from the finish and was worried that if I had carried on I would have either missed it or held everyone up), and I was feeling pretty good.
It starts at Hay-on-Wye by the clock tower and there is a bit of road running through the town and out to Boatside Farm, where we turned off the main road and onto a track that eventually took us over a field where there are the remains of a Roman Hill Fort (not that we were looking for it) and then along a track to where we picked up the Offa's Dyke Path.  This was followed through fields and then up a stoney track to meet the road.  I remembered this bit of road from last year and it had seemed never ending.  As we turned off, at the first water station, I said to a young woman who was running near me that it didn't seem as bad as last year.  It was uphill again on the track and then turned off onto a footpath through Bettws Dingle.  A lovely bit of woodland running still uphill before coming to a lane and following that for a while.  A marshal here said how sporting I was being to give everyone else a head start!  Bits of lane running and sections of off-road before getting onto Red Lane, a track that gets more and more difficult underfoot until you get to Little Mountain.  Up and over that, down into the first 'cut-off' point at Newchurch.  I scraped through with about 90 seconds to go – exactly the same as last year, but I hadn't had to work quite so hard for it.
Next is the climb up Disgwylfa Hill – this is a lovely grassy climb with great views.  One view was the man ahead from Stratford AC who I was gaining on!  Eventually I passed him and said that I knew we wouldn't make it to the next cut off point in time, but hoped that they would be more generous this year as the weather was better.  The route then took us on a few more lanes and over fields before running into Gladestry where I was stopped last year.  I was mentally preparing to negotiate, to assure them that I didn't need to carch the coach etc., but they just smiled and encouraged me as I ran through!  What a relief – even if I walked now, I was going to finish.  I was over the 2 hours that they allowed for this section, but faster than last year at this point.
Along the lane and then off up a stoney track to start the ascent of Hergest Ridge.  Someone shouted that it was the last hill!  Yeah right – just a very long one!  I plodded on and could hear voices behind me – I wasn't sure if it was two runners talking or the Stratford man and the back marker – either way, I wanted to stay in front if I could.  Up and up onto the ridge, it started to drizzle a bit, but I didn't care – it was refreshing and I was going to finish!  Eventually I was on the top and that glorious run on the ridge that I remembered from the early 2000's – and then I was going downhill – and I had stopped hearing the voices behind me!
Off the ridge and then it was complicated twists and turns into Kington. I started to get cramp in my calf here – I knew that even if I had to drag my leg along, I was going to finish!  Early in the morning, when I was waiting for the coach, one of the organisers had said that they could not stop anyone completing it under their own steam if they really wanted to.  I had said that I wasn't sure of the route from the ridge and down to the school where the race HQ was.  I was very pleased that I was being guided by marshals at this point – I would have never found my way on my own. Onto the road and I was directed to a gate which led to the school playing field.  There was a very steep downhill bit, that took my knees by surprise, but then I was running happily to the finish.
I was second to last!  There were (I think) 4 runners who were 'timed out'.  I was so pleased.  I took 3.13.30 to run the 15.2 miles and felt good at the end.  The only T-shirts left were large and medium – who cares, I finished!  Cake!