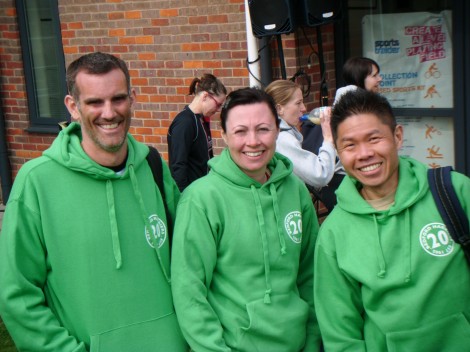 Sarah Rock reports: As I stood on the line at the start of the Oakley 20, I wondered whether following my injury, I had any chance of beating the time I had set at Ashby two years ago.
On the plus side, I had been putting in 45-55miles per week marathon training – on the down side, I had just had a week away skiing in the Alps, where I had only managed 2 x 5mile runs.
For anyone that watches the Tour de France, these runs basically involved the last 2km of one of the mountain stages up the 21 bends into Alpe Duez; for anyone that doesn't, it was very, very hilly! This was my first introduction to 'altitude training' and I have never experienced how much every breath is sucked from your lungs, slowing you down like you wouldn't believe.
Anyway, in the toilet queue, I picked up on some rumours that the course was hilly, and worse still much worse than Asbhy. I found myself thinking that I bet it couldn't be as hilly as the cross country races I have completed throughout the season or the Alps and tried to stay positive.
As we set off, the weather conditions were perfect – not too hot, no rain or wind, but simply cool. Unsurprisingly Terry passed me after about half a mile and I knew it was only a matter of time before Danny performed the same feat.
The course is basically two laps, one of 12 miles and the second of 8 miles – through rural countryside – I would sum it up as a hilly Ashby. The hills weren't too bad on the first lap and I tagged onto a group of St Neot's runners who were also going for consistent 8min miling.
I thoroughly enjoyed the first ten miles, bobbing my head along to my ipod tunes, working out which tunes will make my final playlist for marathon day. It was a nice thought that after the first lap that I was more than halfway, although by 13miles I was flagging a bit. A gel sorted me out and by 16 miles I was pushing on to see if I could break 2hrs 40mins.
Another downside is that the course miles seemed longer than my Garmin miles and so this meant having to run quicker to make up the difference.
I don't know whether it is the result of a season of cross country and some of the more extreme races I have done recently, or whether it was having fresh legs after a low mileage week, but either way I was sprinting around the corner at the 19mile mark.
The final push is through a housing estate and round the school playing field and with another club runner urging me on to keep up with him to the finish, I was punching the air as I ran under the finish banner in just under my best possible goal time.
Terry and Danny had great runs too although we all agreed it was too hilly! The day was topped off by a stylish green Oakley hoodie and a sports massage, followed by a roast dinner in a local pub watching the gran prix. What a perfect day!
Bournville results:
207th | Terry Doherty | M 55-59 | 2:37:09 (2nd in age cat.)
209th | Dan Wilson | M 45-49 | 2:37:34
232nd | Sarah Rock | F 0-34 | 2:39:42